news
Henry Olonga at the OAC Awards Ceremony
Posted on February 08, 2019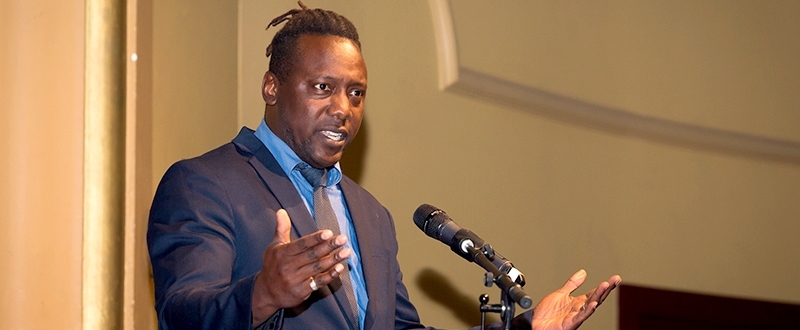 Open Access College was lucky enough to host a wonderfully entertaining guest speaker at our Awards Ceremony at the end of last year.
Mr Henry Olonga joined us to celebrate the achievements of our students, and to regale us with stories from his life – both humorous ones, and some a little more serious.
As a former test cricketer for Zimbabwe, Henry is perhaps best known for his brave protest against Robert Mugabe during a match in 2003. The protest, which ended his test cricket career, resulted in Henry seeking refuge in the UK. He eventually came to reside in Adelaide, and is now an accomplished singer and professional speaker. With such a dramatic variety of vocations and life events that Henry has experienced, it was little wonder we were so enthralled by his story.
Henry spoke of the importance of resilience and tenacity, how you must keep going and stick with your focus, even when you fail and even when you may not be as good as you would like. He told us about his desire to act in a school play when he was younger, and even though he was rejected for many parts, he stuck with it and was eventually cast in a play (albeit as a girl, in the play Oklahoma!)
He told us of 3 moments in his life where he nearly died, and how this lead him to a great appreciation for his life, that you must give everything your best shot and never give up. He also spoke about the importance of gratitude, for the people around you and for life itself.
We felt tremendously lucky to have heard Henry's insights – what an inspirational person he is.
The video below shows a short excerpt of Henry's speech.
(Photography by Joanna Robinson)