news
Adelaide Careers and Employment Expo 2023
Posted on April 13, 2023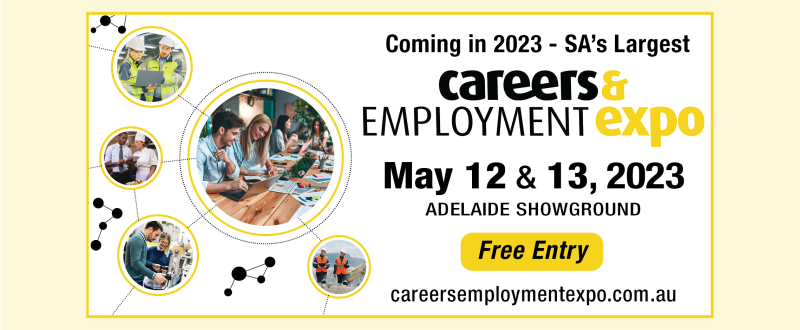 Adelaide Careers & Employment Expo

South Australia's largest Careers & Employment Event is open on May 12 & 13, 2023 at the Adelaide Showground. The Expo will host over 130 organisations and employers with career opportunities for all ages. They offer the opportunity for students, job seekers and career changers to connect with organisations for guidance, clarity and opportunities in relation to career options.

The event is for school students, parents, teachers, graduates, job seekers, people looking for courses and workers seeking new training options.

The Expo is packed with Free advice, you can…
Talk with over 130 Training Organisations & Employers
Gain Free Career Advice
Experience the Free Career Seminars
Learn how to write a Winning Resume
Enjoy the Try a Trade Interactive Zones
Discover Defence & Space Industry Jobs
Find your Ideal Role at the Australian Defence Force Display
If you are looking for a job, career change, courses or you are a school student looking for a career path, you can't afford to miss this event.
Free Admission
Adelaide Showgrounds, Goodwood Road, Wayville SA
Friday May 12, 2023 - 9.00am to 3.00pm
Saturday May 13, 2023 - 9.00am to 4.00pm

For more information about the event please visit their website, or their facebook page;

Website: http://careersemploymentexpo.com.au/Adelaide.html
Facebook: https://www.facebook.com/AdelaideCareersExpo