news
Cameron studies at OAC while travelling around Australia
Posted on November 18, 2022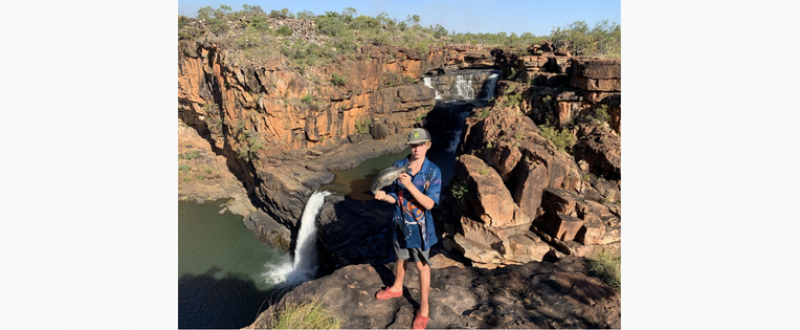 Cameron's Travels
I was compelled to share Cameron's learning journey as he and his family (supportive parents, Caroline and Iain) have been travelling around Australia in their caravan. Soaking up the landscapes, beaches, telling real life stories of close encounters with sharks, crocodiles, Aboriginal communities and sites, Cameron manages to do his OAC studies with intermittent internet connection whilst living life to the fullest. Initially a little quiet in class, he now talks using the microphone actively and we all look forward to hearing his wild anecdotes. Here he is!
Kimberley Larsen
HASS 7/8 and Chinese Teacher
Cameron's Words:
I definitely think I have learned more at OAC without the distractions in the classroom that I would get at a normal school. I can also submit more work because I can get help from a parent whenever I need it if I get stuck. For example, Mum is really good at French because that's where she plans to live with Dad when they're older so she helps me with French. Dad is great at Maths so he helps me when I need it.
Sometimes it can be hard travelling whilst doing school because in remote parts of Australia much of the time there isn't an internet signal so I can't attend classes or submit any homework. So we will go to a town for a few days but then there is a lot of catch up school to do. That can be hard, especially when you're sitting inside doing work and have to look at an amazing beach and not be able to go fishing!
Caroline and Iain's Words:
When we decided to spend a year travelling around Australia together, swapping our house for a caravan, we had no idea what to expect. We anticipated there would be arguments, a lack of privacy, we'd miss our friends and our routine. And those challenges have all been real.
Yet there's a magic to waking up with a view of an ocean, river, mountain or lake which can't be compared to 'normal life'. The thrill of setting out for the day knowing by sunset we'll have experienced something new and wonderful is a unique feeling. Whether that's swimming with whale sharks, jumping into waterholes, cooling off under waterfalls, hiking through a rainforest, tracing the history of an ancient culture or just catching a fish for dinner. Often we don't know what the day will bring and where we will spend the night.
Australia is a massive country. Our fuel bill is huge. This week we paid $2.95/L for diesel in remote Cape York. Some days we might drive 600kms to get to our next stop.
Planning a trip like this requires an understanding of Australia's weather patterns. It's best not to go north of Perth before cyclone season has finished. Be out of the north west before wet season. Leave the tropics before the roads flood and leave you stranded. It may be best to avoid Tasmania and Australia's mountainous regions in winter when you're living in a caravan. And this year, after a soggy month in NSW, we've avoided much of the East Coast completely.
Outside the main cities and towns there's a network of dirt roads, often passing through cattle stations larger than most European counties, unfenced, you have to be on the look out for roaming cattle, horses, feral pigs and donkeys.
In the north it's not unusual to pull up at a beach or even roadhouse and find graves of early settlers alongside aboriginal ones. Australia's modern settlement has come at a price - a brutal history of oppression, violence and continued intergenerational trauma for those who have been dispossessed. We have visited places where blood has been shed and trauma triggered in the most unimaginable ways.
We've seen the best and the worst of this country – we've seen the best and worst of each other! This trip has been amazing and confronting. From days where we couldn't stand the sight of each other to days where we've had the best family time we've ever had in gorges, rock pools, waterfalls and forests.
Schooling on the road has been challenging, but there are wonderful moments of alignment when our children are actually experiencing what they're learning in school. Studying the Daintree the week after we visited, creating a new Australian flag in Civics with a first hand understanding of Aboriginal culture, completing a project on water scarcity when we've spent time in areas where the pipes are cut off between 10pm and 6am to conserve water. These are the moments where I take the greatest pride in our decision.