news
Commendable Effort by the Mock Trial Team!
Posted on July 11, 2018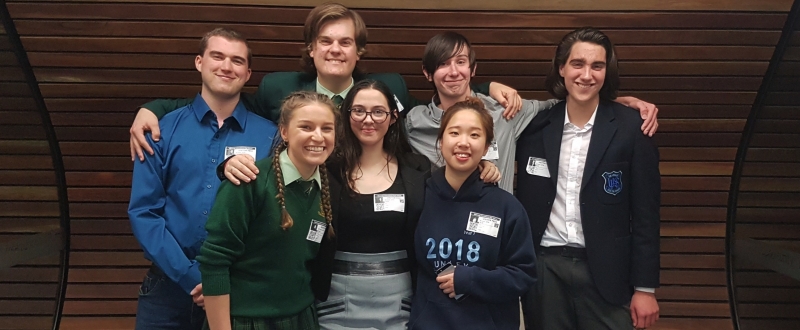 From left to right: Sam, Jessica, Daniel, Erin, Lachlan, Yewon & Henry
The OAC Mock Trial Team competed in their 3rd and last round of the Law Society of South Australia's Mock Trial Competition at Glenunga International High School on the 5th of June.
The competition organised by the Law Society of SA involved 28 schools from across the metropolitan area each competing in a round robin competition of mock trials. The OAC Team was made up of 10 students undertaking Stage 1 or Stage 2 Legal Studies at OAC.
The Team was responsible for preparing and battling out their cases against another school's team in front of a legal practitioner from the Law Society who played the Magistrate. Glen Pearce from Webster's Lawyers generously donated his time to coach the team throughout the competition.
This is the first year OAC has been involved in the competition providing the team with a steep learning curve from the start! They rose to the challenge and it was great to see the students' willingness, enthusiasm and participation in the trials which required a lot of time and effort in preparation.
Legal Studies teachers Bernadette Flaherty & Ben Richardson thank the team for their commendable effort in representing OAC at the competition. They said it was great to see students involved in the trials take something away from the experience, whether that be the inspiration to continue studying law, self-confidence in public speaking, confidence in team working or a new friendship made with a fellow team member.
The team became quite close and worked very well together despite the geographical distances that separated them. Well done team!
Ben Richardson