news
Years 11 & 12 Formal 2023
Posted on September 12, 2023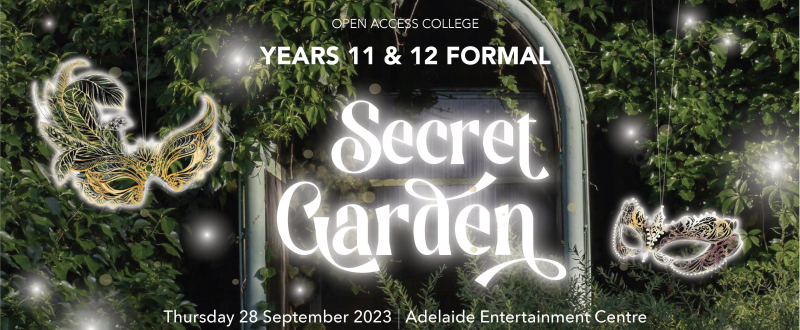 Event Details

Date: Week 10 - Thursday 28 September 2023

Time: 6.00pm - 6.30pm Pre-dinner drinks in the courtyard
6.30pm - 10.30pm Doors open, main event
Theme: Masquerade Secret Garden
Formal attire is preferred, but please wear what you are comfortable in. (Masquerade mask optional).
Location: Adelaide Entertainment Centre - 98 Port Rd, Hindmarsh SA 5007
Please note - we have now been relocated into the Star Room
Tickets & Entry: Tickets have been sent to all students via email. Every student and guest name will be on the door list so it is not necessary to show your tickets at the entrance. A printed ticket which serves as a keepsake to commemorate this memorable evening can be collected to take home as you sign in.
There will be a registration desk at the front entrance. Students and guests are all required to sign in and let staff know before signing out of the event.
Ticket price includes:

Pre-drinks on arrival
Main course and dessert
Side dishes
Soft drinks
Freshly brewed tea and coffee and after dinner offerings
Live DJ and dancefloor
Roaming photographer
Getting there & parking
The Adelaide Entertainment Centre is conveniently located on the edge of the Adelaide CBD, making it easily accessible via both car and public transport. https://adelaideentertainmentcentre.com.au/plan-your-visit/getting-here/
Complimentary parking is available at the Adelaide Entertainment Centre for all attendees in the designated area. To access this parking, please enter via Gate 1 off Port Road to the underground carpark. Once parked, walk up the ramp and turn right to the Star Room entrance. If you require accessible parking, there are spaces available at the top of the ramp.
Please inform the car park attendant that you are attending the 'OAC Formal' to be directed to the allocated spaces. If you park outside of these designated areas, standard parking charges may apply, and OAC will not be responsible for extra costs. For a visual guide to parking and entry, refer to the attached map.
Venue Map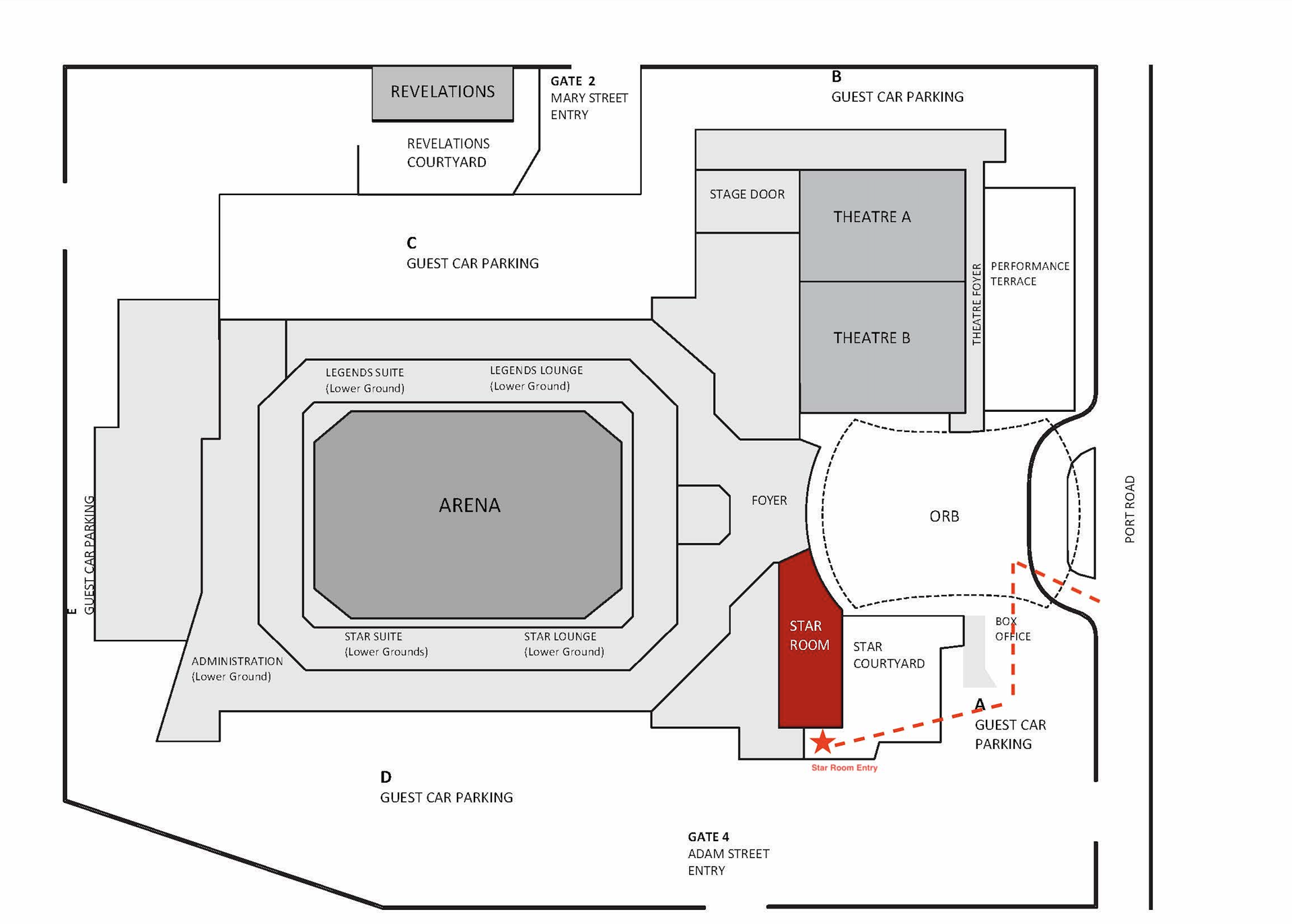 Photography & Media Consent Forms: Events Photos, a South Australian-owned business, will be the official photographer for the evening. There will be a group photo at the start of the night in the Star Foyer. If you haven't provided media consent, kindly refrain from participating in the group photo. To be a part of the photo, please return a media consent form to Student.Services805@schools.sa.edu.au if you have not already provided one to OAC previously.
Acquire Event Photos: Guests can easily register by scanning a QR code with their mobile. After the formal event, Event Photos will email and/or text a link to view and purchase photos to all registered guests. Please note that you will only receive photos in which you have been photographed. If you or your guests do not have a media consent form, kindly inform the photographers on the night.
On the Night: The event will run from 6:30 PM to 10:30 PM sharp. Our staff will be on duty until 11 PM to ensure that all students are collected safely. Important Reminder - No Alcohol. Please be reminded that alcohol will neither be served nor tolerated at this event. Any students suspected to be under the influence of alcohol may be asked to be picked up earlier. The college is not aware of, nor will it be responsible for, any before or after parties or celebrations.
FAQ's

Q: Can I bring a plus one?
A: Yes, you can select to purchase Two Tickets ($220)
Q: Do I need to wear a masquerade mask?
A: This is optional
Q: Do I need to wear a face mask?
A: The event will be under the guidelines of the SA Government's restrictions around indoor events. As these are subject to change, we will advise students of Covid safe requirements closer to the date.
Q: Is there assigned seating?
A: No, feel free to sit where you like.
Q: Will they be able to cater to my dietary requirement?
A: Yes, please ensure you specify any dietary requirements when you RSVP.
Contact
Should you require additional information regarding the 2023 Years 11 and 12 Formal, please do not hesitate to contact Tahlia Jones at Tahlia.jones691@schools.sa.edu.au.