news
Student Achiever - Joshua Murcott
Posted on August 03, 2018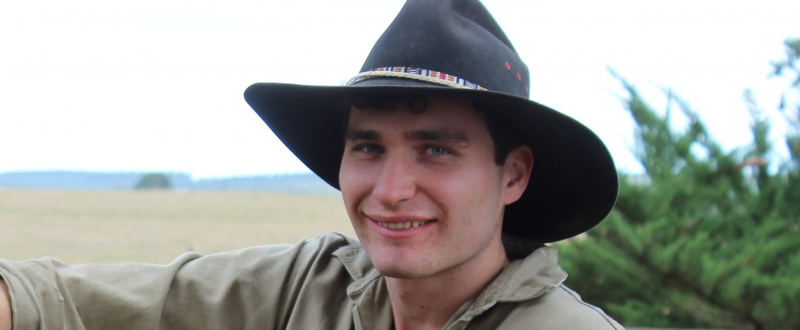 My name is Joshua

I am the youngest of four brothers living on a farm in Glencoe, SA, with my parents.

We work 600 acres with our cousins, with Poll Hereford beef cattle and White Suffolk sheep, and cats, chickens, and guinea fowls in the mix!

I have a myriad of pursuits which include playing music with my family, paintballing in the bush, farming (fencing, tractor work, and animal husbandry), and undertaking car mechanics on our 10+ Subarus.
My experience at OAC
I first undertook studies through OAC whilst in Year 8 homeschooling, beginning with Spanish – a language with much flair and emotion that appealed to me.
This complemented my schooling by providing opportunities for language and culture that were not readily available on a farm; plus, with my love of languages and conscientious support from my Spanish teacher, I was able to form a stable commitment and passion towards my online lessons. In my final year 12 Spanish examination, I gained high grades.
I also completed PLP, Photography, Digital Image Manipulation, and Media Studies. In all, I had excellent teachers; however, Spanish was my first and favourite.
Linguistics, I believe, is where Open Access excels: the nature of learning a language, while never easy, can be moulded for distance education; a fact epitomised by my excellent Spanish teacher and the class. "¡Muchísimas gracias, maestra – eres fabulosa!"
And now
Having completed my scholastic studies, I intend to take a gap year (at least) and work as a Jackaroo on a number of cattle and sheep stations throughout Australia, from outback SA to central QLD.
I also have the opportunity of undertaking tertiary studies either in Agricultural Science or Management. Furthermore, I have an aspiration to travel to a Spanish-speaking country, such as Argentina. So, one day, I might find myself working as a gaucho, or cowboy, on the grazing plains of the Pampas... and it all began with Open Access College.
To download the full booklet, please see the downloads section at the bottom of this page. You can also request a printed version be sent to you, please email administration@openaccess.edu.au