news
Student Achiever - Kiara Karpany-Day
Posted on December 31, 2019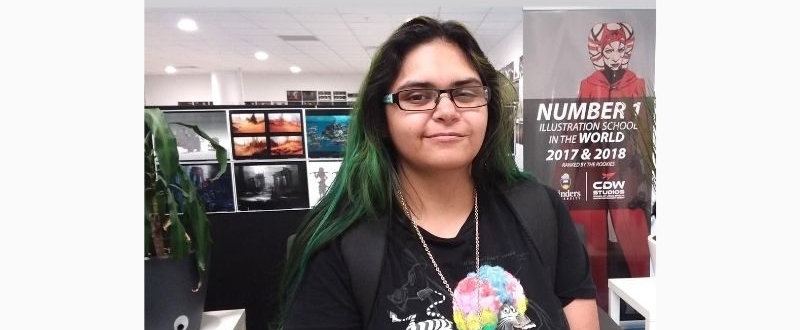 My name is Kiara.
I am 24 years old and Aboriginal (Ngarrindjeri), I live with my Mum and little sister and love being surrounded by my animals. These are 3 cats, 4 rabbits, 3 rats and a quail.
My experience at OAC…
I enrolled with OAC as an easier type of study to cope with. In 2011 I had chronic depression, anxiety and was diagnosed as having ASD (Autism Spectrum Disorder) in 2015. Giving up my studies seemed like a better option. Reducing my studies meant it took longer to get my SACE and ATAR.
Since I was very little I've always loved game and movie characters (especially villains) and found particular characteristic traits in everyday people and animals entertaining. This led to me wanting to pursue a career in the film industry as a character designer. With a lot of family support from my mum, step dad, sister, aunty and grandparents, as well as from my teachers, I kept going.
The OAC Aboriginal Support Officer, Michael Bradshaw never left my side through the ups and downs of study. Everyone's understanding and confidence in me as well as their smiles were reassuring on bad days. Their belief and passion towards helping me succeed is why I am where I am today.
And today...
I am beginning my first year of my Bachelor of Creative Arts (Visual Effects and Entertainment Design) at Flinders University. This includes experience with short films, animations, graphic novels and games for a professional portfolio to begin a career in the media industry.
I found that it's way too awesome to be just sitting on the sidelines-I needed to be a part of it. I wish each and every student the best for your studies: work at YOUR pace and make life work out YOUR way.