event
Wellbeing Week 2022
Posted on August 20, 2022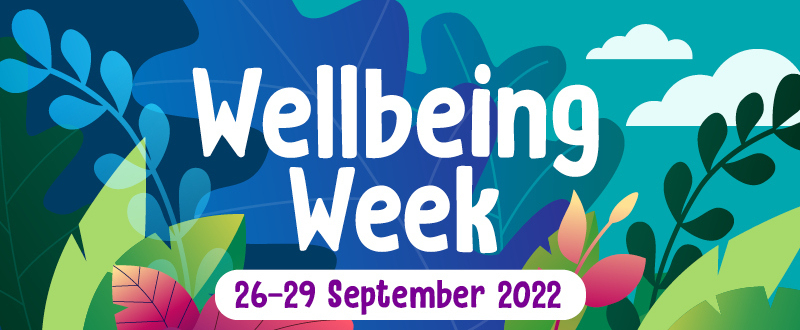 Join us for Wellbeing Week: 26-29 September
(Week 10 Term 3)
Please note: Activities were updated on 14 September 2022. If you had downloaded the timetable or made your bookings prior to this date please check your chosen sessions and download the updated timetable if needed.

---
Open Access College students and their families are invited to attend a week of activities & fun at Marden campus: 1-37 Marden Road, Marden.
Join us for fun, inclusive activities that show you how to introduce more wellbeing into your life, and mix with fellow students, teachers, Student Wellbeing Leaders and OAC staff!
Please see the list of activities below.
You can choose one activity per session.*Some activities on Monday and Tuesday are extended over 2 sessions.
Download the Activity Timetable (Pdf 2.3Mb) for more information about activities.


---
Wellbeing Week Activities:
---
Monday 26 September
9am - 10am Welcome, Pancake Breakfast & Housekeeping
Session 1: 10am - 10.45am
Welcome to Country & Smoking Ceremony with Uncle Mickey (All)
Session 2: 11.15am - 1pm
Bookweek Geocaching (R-6)
Academy of Interactive Entertainment (AIE) Digital Art (Yr 7-12) (Sessions 2 & 3)*
Sporting Games Mars Stadium (Yr 7-12)
Tie Dying (R-6)
Session 3: 1.30pm - 2.30pm

AIE Digital Art (Yr 7-12) continued *
World Games (R-7)
Ball Games & Sports Mars Stadium (Yr 8-12)
---
Tuesday 27 September
9am - 9.30am Arrival & Daily Welcome
Session 1: 9.30am - 10.45am
Elevate Parent Seminar - Supporting Student Success. (Year 10-12)
Message Sticks with Cedric Varcoe. (R-12) (Sessions 1 & 2)*
Academy of Interactive Entertainment (AIE) Game Design (Yr 7-10) (Sessions 1 & 2)*
Parenting a Child with Anxiety
Escape Room in the Zoo (Yr 7-12)
Session 2: 11.15am - 1pm
Elevate Student Session Working Smarter (Yr 10-12)
Bricks 4 Kids (Lego) (Sessions 2 & 3)*
Message Sticks with Cedric Varcoe (R-12) continued*
AIE Game Design (Yr 7-10) continued*
Session 3: 1.30pm - 2.30pm
Elevate Student Session Plotting Your Success (Yr 10-12) (1.30-2.45)
Puzzles & Board Games (R-12)
Table Tennis (R-12)
Bricks 4 Kids (R-6) continued*
---
Wednesday 28 September
9am - 9.30am Arrival & Daily Welcome

Session 1: 9.30am - 10.45am
Bush Tucker - Australian Native Foods (R-12)
Japanese Tea Ceremony & Koto (All Ages)
Lava Lamps (R-6)
Ceramic Painting (Yr 10-12)
Session 2: 11.15am - 1pm
Silent Disco (R-6)
Bugs Slugs and Reptiles (All Ages)
Coping with Anxiety (Yr 7-12)
Session 3: 1.30pm - 2.30pm
Phantastic Physics Show (All Ages)
Japanese Tea Ceremony & Koto (Year 9-12)
---
Thursday 29 September
9am - 9.30am Arrival & Daily Welcome
Session 1: 9.30am - 10.45am
Art Mural with Cedric Varcoe (Yr 7-12)
Time Capsule - Letter Writing (Yr 8-12)
Miniture Painting (Yr 4-12)
Puzzles & Board Games (R-6)
Session 2: 11.15am - 1pm
Mural Painting (Yr 7-12)
Painting Pots (R-12)
Dungeons & Dragons (Yr 7-12)
Calm Down Jars (Yr 2-6)
Session 3: 1.30pm - 2.30pm
BBQ Lunch & Farewell Bush Band Entertainment (All)