event
Year 11 & 12 Formal 2018
Posted on June 25, 2018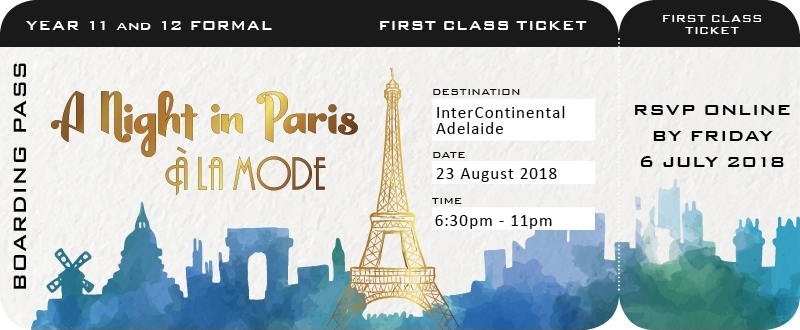 A Night In Paris – À la mode
RSVPs are now closed.

Payment must be made by 1 August. If you have RSVPd and have not yet received your invoice, please contact Client Services on 08 8309 3680
---
Details

We are inviting year 11 and 12 students to our 2018 Formal.
The theme is: A Night in Paris – À la mode. It is not essential you dress up for the theme, but formal attire is preferred.

Date: Thursday 23 August 2018
Time: 6:30pm - 11pm
Location: InterContinental Adelaide, North Terrace.
Ticket Price: $80 each
RSVP by: Friday 21 July 2018
Pay by: 1 August 2018
Ticket price includes:
3 course menu including set/alternate entree and dessert and a choice between 2 dishes for mains
Side dishes
4.5 hours soft drink package
Mocktail on arrival
DJ and dance floor
Photography including photo booth and roving photographer
Ticket Payments
Once you RSVP, you will be sent an invoice. Tickets will be sent to you on receipt on payment. Please pay your invoice as soon as possible. You can pay by instalment if you like, but the last payment must be made by 1 August.
Consent Form
Every ticket holder must return a Media Consent Form, including attendees who are not students of OAC. You can bring this form in on the night, or email it before the event to: events.management@openaccess.edu.au
On the Night
The event will run from 6.30pm-11pm sharp. Staff will be on duty during this time and will also be on duty for a maximum of 15 minutes after 11pm to ensure all students are collected safely.
Can you please ensure students are picked up as soon as possible after 11pm.
Alcohol will not be served or tolerated at this event. Any students who we believe are under the influence of alcohol may be asked to be picked up earlier.
The college is not aware of, or will be responsible for, any before or after parties or celebrations.
The hotel has recommended parking at the Festival Centre Carpark and staff will be parking in this carpark.
About nuts in the menu
The Intercontinental Hotel cannot guarantee that there will be no nuts, extracts of nuts, or nut residue which students may come into contact with. However, the menu which we have selected does not contain nuts, or nut products and we have done our best to support students with severe nut allergies. We cannot guarantee a completely safe and nut free environment – however we have taken measures to minimize risk factors.
More Information
If you have any further questions about the details of the event, please email Ingred.Perry@openaccess.edu.au
If your question is regarding invoicing or payment, please contact Client Services on 08 8309 3680.