SOTA News
Message from Head of Campus
Posted on July 04, 2019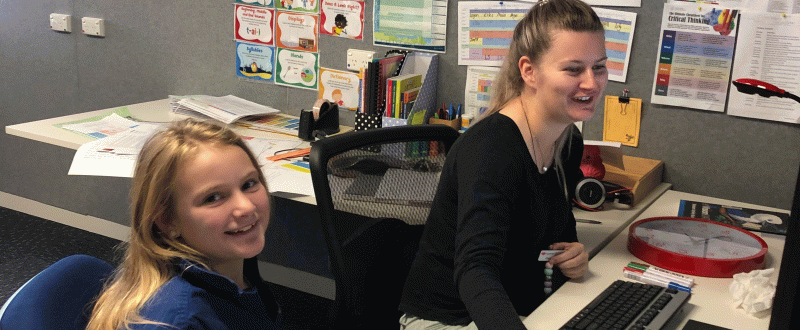 It is hard to believe that we are already halfway through the 2019 school year! So much has happened and students have been busy learning many new ideas.
Induction week in Term 1 set us off to a great start as teachers facilitated initial assessments with their students. The term got quickly underway with the students learning during lesson time and throughout the day completing various tasks in their schoolroom. Students wrapped up a great Term 1 with the SOTA Camp in Port Lincoln. Students participated in various activities and excursions around the Port Lincoln area. All were exhausted at the end of the week!
Term 2 kicked off with School Experience Week during week 3 when all of the student came into Port Augusta for a week of face-to-face learning. Students also went on excursions to the Arid Lands and Wadlata. The teachers thoroughly enjoyed having the students in to teach and learn in a face-to-face classroom setting.
Here are some of the highlights of semester 1 from SOTA Staff:
Miss. Katie – I've thoroughly enjoyed being a part of work share and stars of the week during Friday assembly. I love hearing about all of the great things our students are learning. It's a pleasure to listen to our students share what they are most proud of each and every week. We have so many stars at SOTA! Let's keep kicking goals in semester 2!
Miss. Abby – Highlights this semester are F2F events. Seeing my kids make progression in their learning. Student excitement when they learn a new sound or go up a level in reading or can explain a maths concept that they have learnt.
Miss. Gee Ling – I really enjoyed seeing the students work with slime during the science experiment. The students were extremely resourceful while making their own disgusting sandwich and developed thorough procedures on how to create such an interesting concoction!
Mr. Tom – It was great to have the opportunity to teach the students in a face-to-face setting during SEW.
Miss. Carly – I have enjoyed seeing the year 6 students grow in confidence while running their year 6 WebEx lessons. I have also enjoyed the conversations that we have had in the year 4/5 class regarding their timeline projects.
Mr. Joseph – Year 7 highlight for many of us was travelling to Port Augusta Secondary School to run a science experience in their science lab during SEW.
Miss. Christina – I always enjoy the F2F events when I get to work with my students in person because I feel as though I am able to really connect with them.
Miss. Amanda – I loved joining in on Miss Abby's lessons and learning about what the students were learning in the school room both from SOTA as well as during home visits.
Mr. Chris – My highlight was the boat cruise on Camp because the staff provided a lot of information about the coastline and agriculture in the Port Lincoln area.
Mr. MK – I am appreciative of the hospitality and acceptance of ITs being a part of the family during visits. There is such a sense of hard work in the schoolroom and I am truly impressed with the learning that is happening during my visits.
We hope that everyone has a wonderful term 2 break and we look forward to seeing everyone back at the start of term 3!
Katie