SOTA News
Woodhouse Camp
Posted on May 03, 2018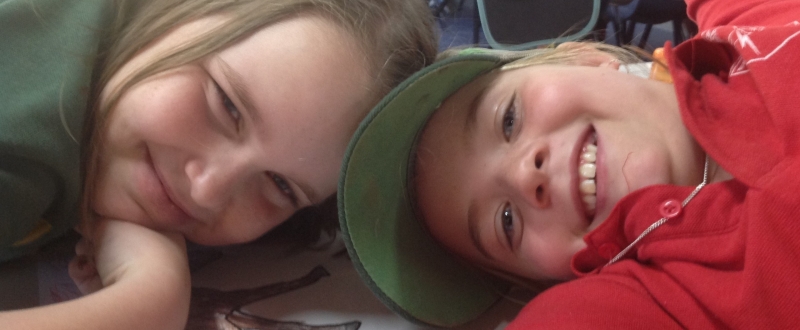 Thirty nine students from twenty six families attended the 2018 SOTA Camp at the Woodhouse Activity Centre from 9th to 13th April. We are very grateful to Oz Minerals, BHP, AJ and PA McBride, McDouall Peak Station and Kingoonya Racing Club for their kind sponsorship of the camp.
Fitting the students plus nine staff, twenty two mums, one brave dad, seven govos and twelve toddlers made it a tight squeeze to accommodate the ninety attendees.
Families assembled on Monday where Dennis informed us about camp rules and then introduced us to Challenge Hill. Unfortunately we didn`t have time to complete it. Plans to return there during the week also were put on hold due to the unseasonal heat experienced. In fact smoke from Adelaide Hills bushfires could be smelt and unsettled a few people. Luckily we had CFS Ben with us to alleviate any concerns! Team captains were elected, SRC presentations were made and board and card games were played to cap of Day 1.
Laser Skirmish was definitely the highlight on Tuesday. Whilst some students did this others did some art and science before swapping over after lunch. Trish Ellin passed on some astronomy skills to the Year 6/7`s. A Bug`s Life DVD kept most quiet at night (especially Eli!) and the govos enjoyed their annual camp night out.
The surprise visit by SOTA blasts from the past (Miss Jo, Miss Chelsea and Miss Eatts) was very happily welcomed by all who remembered them. It was great to see the genuine regard which families and especially students hold these three.
Wednesday`s highlight was the visit to Monarto Zoo. This was a first for most people. Although it was a dusty/windy day it proved to be very educational in terms of habitat and animal conservation.
A recording of the SOTA song was completed after a few takes and all was in place for the annual camp quiz. Red Eagles finished 1st and 3rd whilst Blue Dingoes took out silver.
Thursday morning students (in their loud shirts) boarded the bus for the excursion to Bounce which was enjoyed by all bouncers. A lunch stop at Hazelwood Park playground was a late but successful idea which the students made the most of.
Then it was off to OAC Marden library for a few hours. For some this was their first visit to OAC and provided the chance to meet some of their teachers face to face for the first time.
The annual SOTA`s Got Talent occupied Thursday night with ex students Anna, Jessica, Eddie and Charlie acting as judges. Hours of practice was evident. The acts were very good with the Year 2`s taking out top spot. As per usual the govo`s produced another fantastic finale to end a good night. Friday was a pack and leave morning as yet another successful SOTA camp came to an end.
Hayden "Really good going to Bounce and seeing my friends"
James "Great until I sprained my ankle"
Max "Camp has been great and Laser Skirmish was the best part"
Jessica "Great to spend time with my friends"
Lachy "Laser Skirmish was awesome and so was Bounce"
Winsome "Bounce was very good"
Lily "Like seeing all my friends and visiting Monarto Zoo"
William "I loved Bounce because it was heaps of fun"
Geri "Laser Skirmish was the best part about camp"
Harry "Fun and energectic experience"
Lucy P "I liked Monarto Zoo. I really fitted in with the chimpanzees!"
Lucy W "Bounce was the best fun"
Emily "Everything was great"
View the GALLERIES to see more photos!