news
2023 OAC Senior Jumpers
Posted on May 22, 2023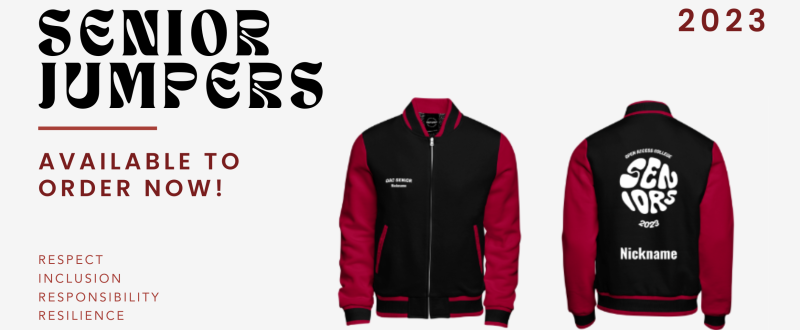 We are excited to announce that the winning design for our 2023 OAC Senior Jumper, Jacket A, is now ready for order! Students in Years 10, 11 and 12 are invited to order the 2023 OAC Senior Jacket.
Thank you to Keira, the talented student behind this incredible design. Unfortunately, none of the other designs received enough interest for us to proceed with opening orders for them.

The Fleece Varsity Jacket (Zip) with the 2023 design is now available for order at a cost of $105 each. All orders are made directly to Reform Clothing, the business who is creating our school jumpers. Payment is made online through the website which allows you to purchase in a safe and secure manner at any time.
Students have the opportunity to have their name on the front chest and a nickname on the back of your jumper. Please keep in mind that as a school-related garment, nicknames have to be appropriate and shouldn't be offensive or derogatory in any way. All names will be moderated and edited if required. These jumpers are estimated to arrive early Term 3.
There will be no late orders - so make sure you get your order in by midnight 6 June.

If you need more information or would like to ask about a subsidy for your jumper, please email Tahlia: Tahlia.Jones691@schools.sa.edu.au
Student Leaders Team
Open Access College