event
Year 11 & 12 Formal 2022
Posted on June 16, 2022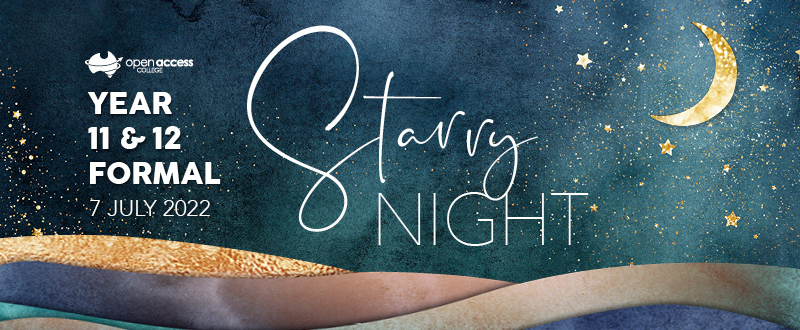 Details:

The theme for the 2022 Formal is Starry Night. Formal attire is preferred, but please wear what you are comfortable in.
Date: Thursday 7 July 2022
Time: 6:00pm - 10:30pm (6pm for mocktail in foyer, doors open at 6.30pm)
Location: InterContinental Adelaide, North Terrace

Ticket price: $80
RSVP and payment due: Thursday 23 June
Ticket price includes
Alternate drop entrée, main course and dessert
Side dishes
Soft drink
Mocktail on arrival
Freshly brewed tea and coffee and after dinner offerings
DJ
Photography including photo booth and roving photographer
RSVP & Tickets
Please RSVP and complete your payment by 23rd of June. You may invite a guest, please pay for two tickets once you have submitted your RSVP.
You will receive your tickets in the mail prior to the event. Please note late payments will receive digital tickets only.
---
RSVP HERE (Sign in with your @schools.sa.edu.au email account)
---
On the night
Early arrival at 6pm for mocktail in foyer, doors open at 6.30pm. The event runs until 10:30pm sharp. Staff will be on duty until 11pm to ensure all students are collected safely.
Alcohol will not be served or tolerated at this event. Any students who we believe are under the influence of alcohol may be asked to be picked up earlier.
The college is not aware of, or will be responsible for, any before or after parties or celebrations.
Parking
Parking is available at the Adelaide Convention Centre. See the map at the bottom of this page for the location.
About nuts in the menu
The Intercontinental Hotel cannot guarantee that there will be no nuts, extracts of nuts, or nut residue which students may come into contact with. However, the menu we have selected does not contain nuts, or nut products and we have done our best to support students with severe nut allergies. We cannot guarantee a completely safe and nut free environment – however we have taken measures to minimise risk factors.
More information
If you have any further questions about the details of the event please contact Student Services on 8309 3500: (Option 2) or email [email protected].
FAQ's
Q: Can I bring a plus one?
A: Yes, you can select to buy two tickets on the RSVP and payment page.
Q: Do I need to wear a mask?
A: The event will be under the guidelines of the SA Government's restrictions around indoor events. As these are subject to change, we will advise students of Covid safe requirements closer to the date.
Q: Is there assigned seating?
A: No, feel free to sit where you like.
Q: Will they be able to cater to my dietary requirement?
A: Yes, please ensure you specify any dietary requirements when you RSVP.
---
Pay for your tickets here: One ticket $80 | Two tickets $160

---