news
Wellbeing Week 2023 Highlights
Posted on May 26, 2023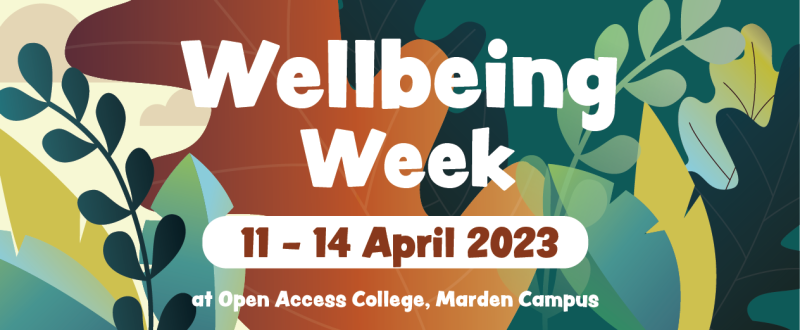 From April 11th to April 14th, our campus came alive with an incredible array of activities for students, parents/carers and staff to experience filled with workshops and events focused on nurturing our overall wellbeing. Throughout the week, individuals were immersed in a diverse range of activities that celebrated our community's spirit and fostered connections.
Students immersed themselves in the delicate sights, scents, and sounds of a traditional Japanese Tea ceremony. Our students showcased their creativity by designing and painting a mural that beautifully represents our OAC community across SOTA and Marden. They emphasised community and connection as they tasted Australian Native Foods and bush tucker, while exploring the potential of our Indigenous garden can serve the community as a place of nourishment and learning for years to come. The African Drum Circle got us on our feet, singing, laughing, and embracing cultural learning and sound therapy.
A returning favourite was the AIE Game Design team, who taught our senior students to program and code games. Collaborating with their peers, students designed their own game pitches and had the opportunity to present them to the AIE company. Laughter filled the air as Animals Anonymous and Farmer Darcy introduced us to stunning Australian wildlife, including a majestic python and adorable baby animals that students could hold. One unforgettable experience was witnessing a sugar glider gracefully soar through our hall!
Our Allied Health Professionals were highly involved throughout the week, offering parent workshops to support their young people with self-regulation, student workshops for senior students overcoming procrastination and stress, and resilience tools that will last for years to come.
Creativity flourished as students crafted calming jars utilising different tactile materials, and many participated in a Gelli Rainbow Printing workshop for LGBTQIA+ community and allies, fostering inclusivity.
At Open Access, we are committed to supporting the wellbeing of our community, and Wellbeing Week reflected our dedication to inclusiveness and created a positive space filled with activities and workshops for all to enjoy. Wellbeing encompasses many aspects, and we encourage everyone to approach each day with a positive mindset and have a go participating in new activities. We had an overwhelming amount of incredible experiences across the week but one thing that stood out particularly was seeing our teachers, students and families build positive relationships.
The success of this week would not have been possible without the collaborative efforts of the Student Wellbeing Team, Ancillary Team, Student Services Team, SSOs, and subject teachers who worked together to lead activities and support families on-site. We extend our thanks to everyone who attended and all those involved in organising and ensuring the success of this event.
We are already eagerly looking forward to our next Wellbeing Week event, where we will continue to further foster wellbeing and positivity within our community!
- Serena Hirschausen-Vahlis, Student Wellbeing Leader