news
A Great Start for the OAC Mock Trial Team
Posted on April 10, 2019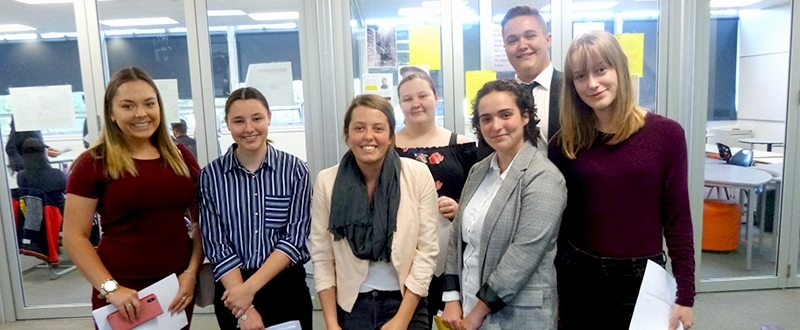 On the evening of Tuesday 2 April, seven OAC students competed in Round 1 of the Law Society of South Australia's Mock Trial Competition held at Norwood Morialta High School: Senior Campus from 5pm to 8pm.
The team which consisted of a mix of year 10, 11 & 12 students had only two weeks to prepare their defence case against a fictional criminal charge of "driving with the intent to intentionally lose traction resulting in a sustained wheel spin" (a burnout).
In the lead up to the trial the team met up using WebEx sessions hosted by their teachers Ben Richardson, Bernadette Flaherty and Leila Allison. The students also took the initiative to set up a Discord page so they could work together online outside of the WebEx sessions. Gerry Bowen a legal practitioner from Adelaide Capital Lawyers generously donated his time to coach our team on behalf of the Law Society of South Australia.
Going up against an experienced prosecution team from Norwood Morialta High School the OAC team performed extremely well. It should also be noted that this was the first time the team met in person having only met up online previously.
The OAC team presented a very good defence angle undermining the credibility of the prosecution's witnesses and creating doubt in the mind of the Magistrate judging the case. After both teams delivered solid closing statements the Magistrate determined our defendant to be not guilty of the charge. Once the points were compiled by the judge the OAC team narrowly missed out on an overall win of the round by just 6 points.
On behalf of the OAC teachers involved a big thank you and congratulations to all the students involved in the trial for their enthusiasm, team work and sportsmanship. Thank you to the parents/caregivers of the students in their role supporting the team. A noticeable mention should also be given to the dedication of the rural students in the team who travelled very long distances in order to compete: a student from out past Cummins (a 16 hour round trip), a student from Glossop (a 6 hour round trip) and a student from Lameroo (a 4.5 hour round trip).
The next round which will be held on the evening of Tuesday 14 of May will take place in an actual court room at the Adelaide Magistrates Court. All the best to the OAC team for round 2 !!
Ben Richardson
Teacher