news
Awards Ceremony 2017: Reflecting on the past year
Posted on February 01, 2018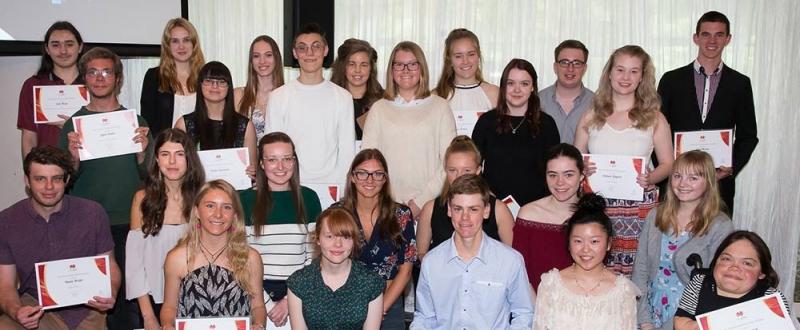 Our 2017 Awards Ceremony held on 7 December last year was a wonderful celebration of the achievements of so many of our students. The ceremony recognised the dedication of our whole community in supporting our students, and acknowledged the successes, both academic and personal, of some very special individuals.
Our Principal, Julie Taylor, reflected in her speech about the importance of the event, and the year that was 2017. These are the words that she spoke on the day:
---
Julie Taylor:
"Invited guests, students, parents, friends and staff,
"Welcome to today's Awards Ceremony and thank you for joining us on this very special day. And it is a very special day for our students, but also for their parents, grandparents, relatives and friends and of course their teachers.
"Today is one of those great occasions when we get together to celebrate our young people – their achievements, their perseverance and their successes. It's one of those occasions where we can take a break and reflect. Where we can feel good as parents, mentors and teachers knowing that the young people we care about are doing just fine and are on a positive path.
"I would just like to take a few moments to reflect on the year that's been at Open Access College...
"Our face to face events are a critical aspect of our work. They strengthen the relationships being built between students and between students and their teachers. Each year our face to face activities grow in number and variety. A few highlights this year included the primary years Come In Day featuring Life Be In It fun; the Unlocking Shakespeare workshop with a visiting artist from the State Theatre Company; a visit to the Mortlock Library by our year 9 students; an ABC and Channel 44 tour by year 12 students and participation in the Research Project student expo. And of course our many workshops and visits to students continued.
"A personal highlight for me was in April when I visited one of our elite athletes while I was on leave and holidaying in Italy. Gianni is an upcoming soccer star and has been able to continue with his SACE studies while living in Europe to pursue his dreams.
"Our Language Partnership Program caters for language learning in primary schools across the state and even in the Northern Territory. Highlight events this year included students performing the Lion Dance at the Lunar New Year; the languages Come in Day in October with the theme of Festivals and Celebrations; participation in the OzAsia Moon Lantern Parade and student's competing in the Japanese Language Quiz day and the Hiragana competition.
"Open Access College is a recognized leader in online learning within Australia and internationally. We regularly receive education delegations from interstate and overseas. An exciting visit this year was from the director of the Commonwealth of Learning who is investigating how they can work with us to introduce online learning models in disadvantaged commonwealth countries. This year we have also signed a partnership agreement with an International School in Vanuatu where we will jointly deliver the SACE to their senior years students from 2018.
"Closer to home, we hosted two National Events that were very well received and the innovative work of the College was recognized. The first was the Annual National Language Leaders Conference where our Language Partnership Program received accolades. Soon after we hosted the highly successful Biennial AADES (Australasian Association of Distance Education Schools) Conference with over 300 delegates from around Australia and New Zealand. Workshops presented by our staff were very well received and a highlight was when our very own, Cheryl Eden, received the Gold Award for exemplary service to distance education.
"Back on the international scene; in April one of our Spanish teachers and student joined the School of Languages in a 3 week language and cultural tour of Spain. Then in October, 4 of our teachers visited our 2 sister schools in Japan. Next year we look forward to hosting staff and hopefully students from our Sister schools.
"Throughout the year our students have received recognition for their achievements at a range of ceremonies. The year started with 14 OAC students being presented with the merit certificates at Government House.
"In September, I was thrilled to watch as 8 of our younger students received their Children's University diplomas at a ceremony held at Adelaide University.
"Every year a highlight for our senior students is the Formal. This year's theme of Bollywood meets Hollywood brought out some very colourful and elegant attire. Students had a terrific time with great food, much laughter and dancing into the night.
"I would like to take this opportunity to acknowledge the contribution our student leaders make to the college on behalf of their peers. They are a talented bunch of young leaders who give freely of their time to organize events and represent the college at a range of forums. Thank you student leaders.
"Congratulations to this year's award recipients. As individuals you are hardworking, dedicated and have overcome challenges. Your commitment, ability and perseverance to your studies has been outstanding.
"Your families and teachers are very proud of you today. They believe in you and have high hopes for you, as I'm sure you have for yourselves.
"Congratulations, you thoroughly deserve your success.
"Open Access College is a special place and along with academic achievement for our students, their success can be measured in many other ways.
"I would like to take a moment to share what one student recently wrote to her teachers. I won't reveal the name of the student or the teachers. This letter is not unusual at our College and it illustrates the journey for many of our students, their successes and the invaluable work of our teachers.
'Dear teachers,
I'm writing this email to you as there were some things I didn't say on the phone that I wanted to because I was really anxious at the time.
First off, I wanted to say a huge thank you to the both of you because you are really great, funny, cool, hard-working teachers that deserve a million thanks but even that doesn't seem to be enough to show my gratitude towards you.
I'm so lucky to have had the both of you for teachers, you made funny jokes and you have worked really hard for our class. This was definitely the best class I've been in. (and will probably stay that way). You never questioned the things I do and say because of my anxiety and that made me feel a lot better.
At the start of the year I was doing okay then later on I wasn't, I didn't feel motivated to do anything because my anxiety was really bad then and I felt like I wasn't going to get better. I was constantly anxious.
Throughout the year I've learnt a lot, not only about the school stuff but also about myself. I have also become friends with some of the people in the class which is great, :) and also my insomnia is going away, I used to be so scared that I couldn't sleep and I thought it would never stop… but now I'm not scared anymore, I feel a lot better.
This last term was awesome since I've been handing up most of my homework lol but also for the first time in ages I think I can actually get better and get rid of this anxiety, I want to work which is the weirdest thing for me because I wasn't sure if I could ever do it. I want to go to an art school. I want to change and be the better me. I want to do a lot of things now and I will.'
"Very moving. I feel very honoured and privileged to be the principal of a school that is having such a profound positive impact on the lives of so many young people.
"Appropriately at this time I would like to thank our teachers for their dedication to the students, for being sensitive to their needs and for going the extra yard to provide the encouragement and extra support the students need.
"Thank you also to parents, carers, and families for your unrelenting support and encouragement of these young people throughout the year.
"Finally, I would like to congratulate our graduating students. You have successfully negotiated your way through school. This is a great day for you all. As you move onto your life beyond school, you will experience enormous joy in creating your own future. Of course, there will be more challenges ahead but you have shown you are up for the challenge and that you are determined to succeed. You will also decide what kind of person you will be. I hope you will choose to be kind, caring and one who gives freely to others, as I believe that will give you the happiest life. And our world needs happy, caring people.
"In concluding, thank you all for joining us today, and enjoy today's program as you join me in congratulating our students."