news
Careers Month
Posted on June 29, 2023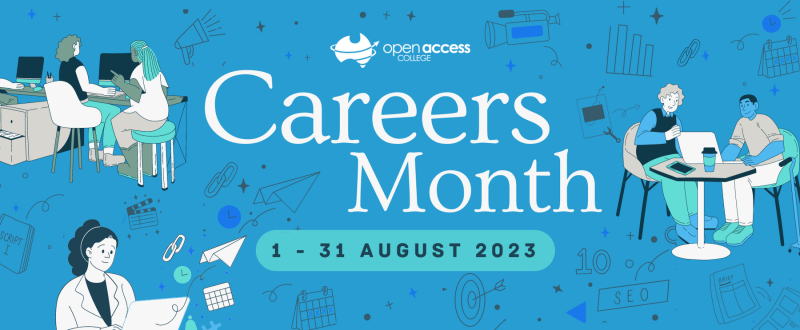 1st - 31st August 2023
Open Access College is hosting Careers Month, an event throughout August for students, parents and caregivers. Careers Month will run throughout August, with opportunities to learn about career pathways through on site and online events. Please see the official DfE Events Guide attached to this email to see what is on offer throughout South Australia.
To support career awareness, Open Access is running specific workshops for students to explore their future. Please note the following key dates:

Wednesday 2 August, 3.00pm: VET Information Session
Years 10 - 12, Online
Come and learn about the benefits of a VET pathway from Harry Sanders, 2021 SA Apprentice of the Year. This will be followed with information about eligibility, requirements and how to apply for a 2024 VET Course.
REGISTER HERE: https://forms.gle/bLKq5GcyZkypnGpJ9
Thursday 3 August, 2.00pm: SATAC Year 12 Information Session
Year 12, On Site - Marden Senior College - F4 building
Join us on site to learn about ATAR calculation, SATAC application process, admission pathways for universities and how to navigate selecting your preferences.
REGISTER HERE: https://forms.gle/zEu4MkntFuCen1Gs5
Thursday 17 August: Senior Years Come in Day - SAVE THE DATE
Years 10 - 12, On Site - Open Access College
This event will be an exceptional opportunity for our senior students to meet their teachers and classmates, explore various career options, and polish up their resume writing skills. As part of this event, we will be venturing to the Marden Careers Expo where students can interact with tertiary education and career pathway organisations who will share their knowledge and experiences.
TO ATTEND: Find consent in emails and return filled in form to Kieran.Hodgson745@schools.sa.edu.au by 14/07/23
Thursday 17 August: Marden Career Expo
Years 10 - 12, On Site - Marden Senior College - F4/F5 building
Join us on site to explore your pathway at our Career Expo! You will be exposed to a vast range of university and career pathways, be able to speak to people in the field, and walk away with a greater understanding of future career options. This expo is for all Year 10-12 students and the more the merrier! Parents are welcome to attend too.
REGISTER HERE:https://forms.gle/Hcf4u5JU5cnG76Lo6
EVENT RESCHEDULED
Updated day: Tuesday 29 August, 1.30pm - Inspiring the Future
Years 7 - 12, Online
Broaden your awareness of career options by being inspired and motivated by volunteers from a range of occupations and industries. This will be an interactive session where you will guess the occupation of the volunteer before hearing more about their occupation and pathway.
REGISTER HERE: https://forms.gle/A14BJVQXK57MZLnU8
August is full of exciting opportunities to learn about pathways and your future. This is an amazing opportunity for new experiences and connecting with our school community. We look forward to seeing you there!

Please find attached a printable version of all the details of upcoming Careers Month and the Student Pathways and Careers Events Guide!