news
Let's Talk and Languages Alive – fun language programs for the July school holidays
Posted on June 17, 2021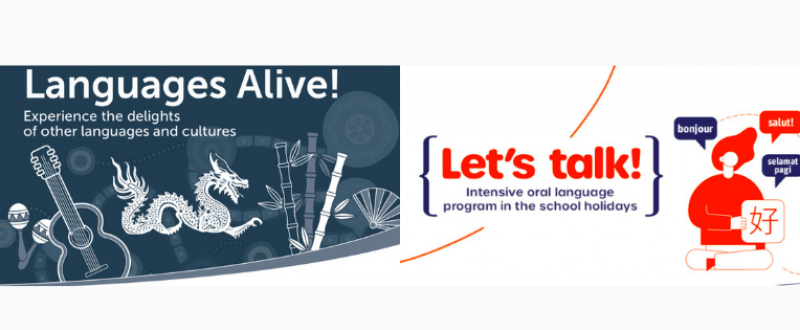 Have you planned anything exciting for the July school holidays? Why not participate in some fun and cultural languages activities!?
There are two exciting languages programs held during the July school holidays.
'Languages Alive' is a program of engaging and interactive language and cultural experiences for R-7 students. Workshops include Spanish, Korean, Nepali, Hindi, German, Chinese, Italian, Indonesian and French. They will be held in metropolitan and country locations.
'Let's talk' will offer intensive and interactive language learning experiences for students enrolled in a Stage 1 or 2 Continuers language pathway. Chinese, French, German, Indonesian, Italian, Japanese or Spanish workshops will be offered at School of Languages on July 8 and July 9. You can join for one or both days. Please download the flyer at the bottom of this page for more details.
Here is an article from one of our OAC students who participated in 'Let's talk' in the April holidays
'Minnasan, konnichiwa! My name is Akira, and I'm a Stage 1 Japanese student at Open Access. I've been a student of OAC for a year now and during the term 1 holidays I attended the "Let's Talk" program in Adelaide.
"Let's Talk" is an interactive and engaging language-based holiday program. Students spend an entire day speaking the language they're learning, with classes available in Chinese, French, German, Indonesian, Italian, Spanish and Japanese. Students can sign up for 1-2 days, with each day being different from one another and offering new experiences.
I attended one day of "Let's Talk" with my friend and upperclassman, Will. We both spent over an hour to get to the program, and it was beyond worth it. I spent the day with other Stage 1 and 2 students. At first, I was extremely nervous. I had never done a program like this, and I had no idea what to expect. I shouldn't have been so worried, though, because our teacher, Kazuko-Sensei, explained everything to us before we got started.
First, we all introduced ourselves – in Japanese, of course – and Kazuko-Sensei was happy to help us if we got stuck or didn't know the proper words. After introducing ourselves, we split off into smaller groups to learn about our similarities and differences. Once again, Kazuko-Sensei was happy to help us, and we helped each other, as well. We shared things we learnt about one another, and then changed groups to continue the activity.
After recess, we headed back to class and played a fun game similar to family feud, with dozens of different questions. It was entertaining to both learn new words and new, interesting things about Japan. My group and I got to know each other better, and we also had time to talk about the different things we suggested as answers.
For lunch, a food van came to campus, and we got to buy a variety of cheap meals and drinks, which was great. After lunch, we once again returned to class to finish off our family feud game, and then it was time to continue with the final activities of the day. Kazuko-Sensei taught us some new sentence structures, and we all got to have a go at making our own sentences. Before I knew it, it was time to head back home, and I bid goodbye to my teacher and new friends feeling glad that I had decided to go.
All in all, "Let's Talk" is a great opportunity for language students, and I think that those who are able to attend should, because it's a chance to learn more about the language you're studying and to make new friends studying that same language. - Akira
Registrations for the July Languages Alive! and Let's Talk! are now open
Please register quickly before tickets get sold out.
Languages Alive X6:
https://www.ticketebo.com.au/languagesalive
Let's Talk:
https://www.ticketebo.com.au/letstalk