news
Movie Review: Sonic The Hedgehog (2020)
Posted on March 12, 2020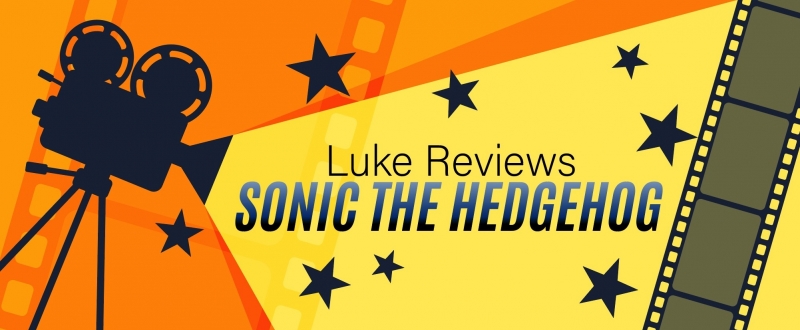 Sonic The Hedgehog (2020)
Movie Review
By Luke.R
Sonic The Hedgehog is an action, adventure, comedy film based on the popular game series of the same name. Sonic is rated PG, features minor crude humor and has a runtime of 99 mins.
The story follows Sonic the Hedgehog (played by Ben Schwartz) as he flees his home planet "Mobius" due to its inhabitants fearing the power he was born with, the power to run beyond the speed of light. After using his magical rings, Sonic is transported to Earth, more specifically the quiet town of "Greenhills". Years pass and Sonic is threatened once again this time by "Dr. Ivo Robotnik" (Jim Carrey), an evil mastermind sent by the government to capture our now teenage protagonist. But Sonic won't be going at it alone, as he will grab some help from his new partner Tom Wachowski (James Marsden) the Greenhills sheriff.
Sonic The Hedgehog is a joyless ride through an unfunny, boring husk of what kind-of resembles the classic hero we've come to love. Sonic's story is a bland venture through over an hour of a story about characters with a lack of motivation and a lot of forced lines of offbeat, out of place humor.
Sonic's character is the safest take on the hero to date with all of his "edge" being scrapped, turning him into a naïve youngster who only feels like he's there to push the plot forward in any way possible. Robotnik is also a safe, yet much more forgettable, toned down character with an unclear goal, and because of this unclearness, most of his scenes feel like pointless filler. Tom is the blandest of the bunch, only being there to add a forced artificial relationship between him and Sonic to the plot.
But I couldn't help but feel gleeful when I had noticed one of the sparse references to one of the Hedgehog's many games. While these throwbacks create a charming sense to a few scenes, they were always brought down by the long, very obvious product placements.
Not all hope is lost though, Sonic The Hedgehog's visuals while mostly bland are made colorful and lively by the great animation. Sonic's design and movement look and move beautifully, as well as Robotnik's many robotic companions, making me wish the entire film could be as wonderfully crafted as its hero's design. Acting was also decent, with most actors doing the best with the un-inspired script.
Sonic The Hedgehog is a movie with an unclear audience, not knowing if it's catering to the long-time fans or a new much younger audience. Either way Sonic The Hedgehog is a film that fails to give an inspired exciting story, ultimately being even more mediocre then some of the "blue blur's" worst video game entries.
RATING: 5/10
Sonic The Hedgehog is a charmless slog through some of cinemas' most cliched story elements and un-motivated characters. Not even the film's sparse wonderful references to the hedgehog's past and the smooth, vibrant and gorgeous animation can fix this hodge-podge of ideas, trying and failing to create some sort of nostalgia.