news
Narnu Farm- Historical Farm Experience Day Trip
Posted on October 14, 2020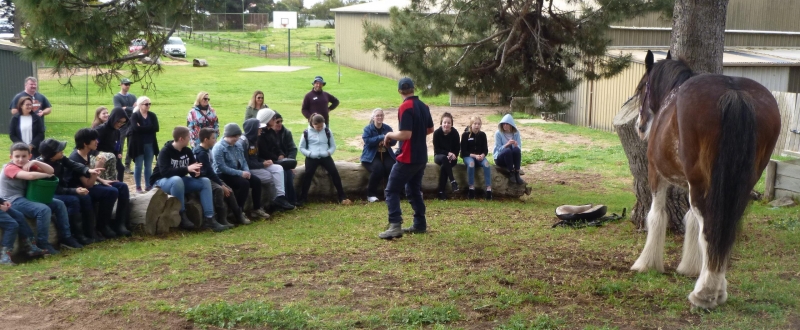 On 25th August and 14th September, two groups of R-9 students visited Narnu Farm for a historical farm experience!
We did the following exciting activities:
Hand-fed farm animals like pigs, goats, chickens, guinea pigs and cows
Watched a blacksmithing demonstration and learn all about why this was an important job on the farm
Went on a truck ride in a historic vehicle, feeding horses carrots along the way
Learned all about Clydesdale horses and practiced hand-ploughing a section of field
Learned about the life cycle of chickens and handled baby chicks
Below are some of the comments from students and families that attended. We hope to see you at our next face to face event.
We loved being a part of the experience. It was nice to catch the bus because we got to enjoy the country scenery for a change and chat to others as well as get to know the teachers in a relaxed setting. Hands on farming experiences and blacksmithing was interesting and rewarding. Most of all We Loved feeding the baby goat, calf and holding baby chicks and guinea pigs. Thanks for the opportunity. - The Hannant family
I had such a blast at Narnu farm and I would love to come back again. I was so nice to be able to see a lot of the people that I have been talking to but never met. - Summer

I had fun feeding the lambs.

Such a great day thx fun for all.

I liked all the animals and the horses. - Joseph

It was really fun, I got to spend the day with my teacher. The emu was friendly and I loved holding the guinea pig and chickens. I also loved feeding the animals especially the baby goats! It was a really fun day! - Emmy Brink :)