news
OAC Student presents at the South Australian Youth Suicide Prevention Summit
Posted on May 09, 2019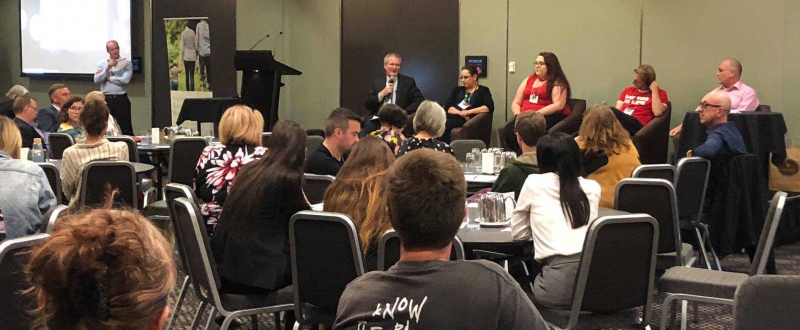 TRIGGER WARNING - This article includes discussion of, and statistics relating to, self harm and suicide.
Marshall is an outstanding OAC student who is very active in our school community. When we heard that he had been invited to speak in front of an international delegation of mental health professionals about his own journey to wellbeing, we were immensely proud of him and wanted to share his very important message with the school community. We also wanted to support readers with some self-help information about what to do when you, or someone you know, is experiencing altered mood and/or feelings that put them at risk of self-harm or suicidal thinking. So please keep reading at the end of Marshall's article for more tips and resources.
- Lisa Hannaford, OAC Psychologist

Marshall's Story

On Friday the 29th March I was invited to attend the South Australian Youth Suicide Prevention Summit at the Pullman Hotel, held by the Office of the Chief Psychiatrist SA.

Invitations were extended to Councils with a specific youth program and associated Youth Reference Group, asking that one Youth Team Worker and one young person (aged 12-25) be nominated to represent youth in our local community.
As I am a volunteer with various different organisations on their Youth Reference and Advisory Committees, I and my representative from Headspace attended this most important event.
The Summit provided the opportunity to be informed by both lived experience and respected experts in the field of youth suicide prevention.
His Excellency the Honourable Hieu van Le, Governor of South Australia opened the event and the Minister for Health and Wellbeing will provide a closing address to participants.
Guest speakers included Commissioner Helen O'Connolly, Commissioner for Children and Young People and Minister of Health, Hon Stephen Wade.
Some key important notes of interest that I learned from the summit is what exactly is happening with mental health and suicide prevention in South Australia.
Of interest were facts and statistics shared:
The first week after being discharged from a psychiatric service is the highest point of risk for youth.
Young women being hospitalised are 5 times more on the incline for self harm.
Self harm is now more common than suicide by 40%-100%
53% people with Bipolar Disorder self harmed regularly.
More male suicides in youth than female.
92% who died from suicide had accessed healthcare services to get help for their mental health issues in the past 12 months.
54% who died from suicide had seen their GP for their issues.
40% who died from suicide had been an outpatient with a psychiatric service.
31% who died from suicide had visited an emergency department.
Some Key outcomes of change they are proposing for South Australia include:
The potential to have alternatives to an emergency department when someone is in crisis. Like a mobile crisis team and a specific dedicated mental health crisis centre for youth.
More suicide prevention networks.
More mental health Youth Peer Worker positions.
Last year 44 people lost their lives to suicide. Out of 44 people who accessed services but still lost their lives 5 were under 25 and 3 were under 18.
Based on those statistics one of the most important key outcomes of this summit was that the aim is to have no young people whom access services lose their lives by improving the quality of these services.
I felt the summit was very positive overall in that it's good to see our government and key figures acknowledging and trying to fix mental health issues and improve services to prevent suicide amongst young people. It is slow progress but it is happening and I will continue to use my voice where I can so that the powers that be listen to us.
- Marshall M
Warning Signs and What You Can Do
There are many options for help with life challenges, distress and mental illness. Most people are able to recover from mental health issues with the right help. The sooner you get help, the sooner you can recover. Suicide affects everyone and everyone can do something to help if they notice warning signs that someone is at risk of suicide. Warning signs might be:
Feeling depressed, sad or down more than usual, and for a long time
Feeling overwhelmed and unable to cope
Having thoughts of suicide
Spending more time alone and less time with friends and family
Having trouble sleeping
Loss of interest in things that are usually enjoyable
Feeling worthless and that everything has become 'too hard'
There are many places you can go to get help for these feelings. If you have thoughts of suicide or plans to harm yourself, it's really important to seek immediate help, even though it might be hard. Talk to someone you trust, such as a family member, friend or teacher.
At OAC, you can talk to:
There are professionals and agencies in the community who can also help:
Talking openly and caringly about emotional distress and suicide is OK. It will not make someone more suicidal and it won't put the idea of suicide in their mind. If you are concerned about someone, ask them. This link has good ideas for talking with a friend if you are worried about them: https://www.headspace.org.au/young-people/helping-a-friend/
If someone shares with you that they are feeling suicidal or emotionally distressed, take them seriously. Listen without judging them. Stay with them. Offer to go with them to get help or ring a crisis line. Let an adult know immediately. Help the person be safe and remove dangerous things like tablets, guns or other weapons and try to encourage them to see a health professional. If in doubt, don't be afraid to call 000.
While not everyone will know what to say and have a helpful reaction, there are people who do, so keep trying to find someone to help you.
If you are struggling with thoughts of suicide, phone:

Lifeline 13 11 14
Kid's Helpline 1800 551 800
Beyond Blue 1300 22 4636
Headspace 1800 063 267
Suicide Call Back Service 1300 659 467
FREE Anonymous Online counselling:
Adapted from information from Headspace and the Jed Foundation

Image: presenters at the summit - photo via Facebook