news
Oddworld: Strangers Wrath HD (2020) Game Review
Posted on June 11, 2020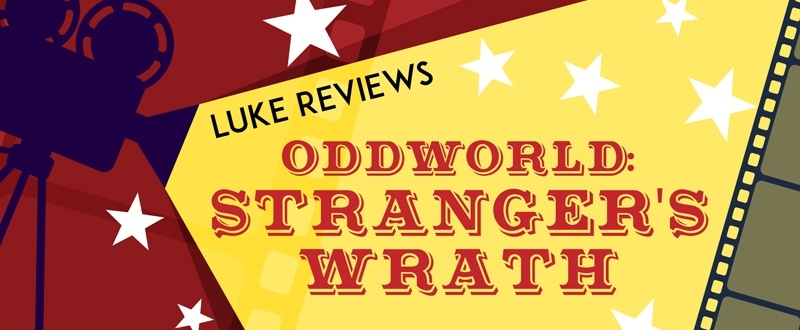 By Luke.R
Strangers Wrath HD is a remaster of the 2005 stand-alone action, adventure game, set in the popular Oddworld franchise developed by Oddworld Inhabitants and Just Add Water. Strangers Wrath is rated PG and features coarse language and mature themes.
Strangers Wrath is a different take on the well-known Oddworld franchise with the previous one's take on a more 2D style, with a heavy focus on puzzle solving and storytelling. Strangers Wrath is a mixture of third person and first-person gameplay, with a focus on action and adventure. But what Strangers Wrath keeps is the strong story, world, and characters many fans have come to know and love from this long running series. It has now been made even better with a new coat of paint for the Nintendo Switch.
Story and voice acting
In the dry and dusty desert of west Mudos, an enigmatic bounty hunter who only goes by "Stranger", takes on jobs to free the local settlements of bandits and scoundrels all in an effort to pay for a lifesaving surgery. But after taking up a dangerous bounty from a man named "Sekto" paying the exact amount of Moolah he needs, his life takes a dangerous turn into dark territory, becoming much more of a fight for survival.
Strangers Wrath's story is slow at the beginning yet intriguing, and is more than enough to keep you going, but by the time you are at the half-way point, it is a constant thrill ride filled with many twists and turns, bound to keep you on your toes. The story is made even better by Strangers Wrath's great voice acting, pulling you into its new western inspired take on Oddworld's dark and industrial world.
Gameplay
Strangers Wrath's gameplay's big draw is the use of both third person and first-person camera angles. Third person is great for exploring the dry deserts and industrialized forests you will be journeying through, while first-person angle is better suited for the game's abundance of action. Both angles are quick and simple to access, and the transition is fluent which is good because you will be changing between them a lot. In third person, you will control the Stranger as he travels long distances, platforming, rope climbing and for melee combat.
While in first person, you can take control of the Stranger's crossbow that utilizes live ammunition. From slugs as hard as rocks, or annoying chattering critters there is no lack of interesting ammunition to hunt and use throughout the Stranger's journey.
After using one of the Stranger's many weapons on one of the games' many enemies, you will be able to either knock out or kill the bandits and capture them to bring back to the local jail, although it's recommended to bring them back alive, as you will be awarded extra Moolah. Strangers Wrath's also has a stealth system but, it can feel lacking and at times poorly implemented. If wanted it can be completely avoided.
Visuals, Sound and Performance
Strangers Wrath's visuals were great back when it was first released and now, being remastered in HD, it looks clearer and better than ever. From dingy rundown towns, dark lamp-lit caves, and moody industrial landscapes there is no shortage of personality and interesting places to see. Strangers Wrath's world is made even better with the ambient and gloomy soundtrack Oddworld games are known for, making the world feel even more dangerous than it already is. Strangers Wrath also runs at an unlocked 60fps, with only minor dips when the action is high, but I barely even noticed the dips while playing through the game's rich world.
Verdict
Rating: 8.5/10
Oddworld: Strangers Wrath HD is a perfect remaster of a game that deviates from the series norms yet it is just as exciting as any other Oddworld title, and now with clearer visuals and smoother controls, Strangers Wrath is a must-have for any Oddworld fan and a perfect entry point for newcomers.