news
Primary and Alternative Programs Come in Day
Posted on August 21, 2018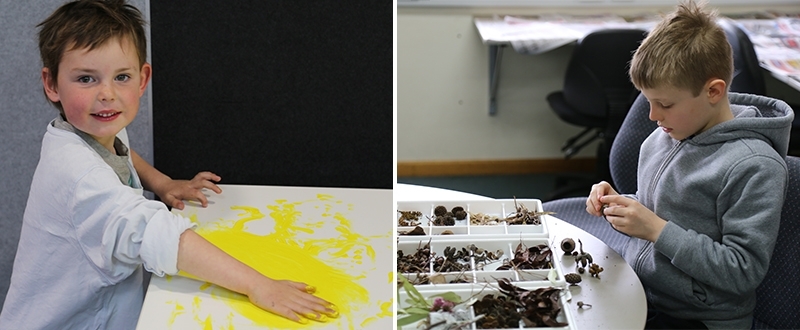 Friday 29th of June saw many Primary and Alternative Program students attending the OAC 'All About Art' Come In Day. The students were treated to a range of art workshops led by artists and various staff and school community members.
The day started with the students, including several students online, participating in a workshop led by an artist called Nina who likes to use as many recyclable materials as possible in her artworks. Nina demonstrated various ways to decorate a block of wood using materials such as paint; fabric; colouring photocopied pictures with pencils and crayons; and stamping using an inkpad and rubber letters, as well as metal letters on a block which needed to be hammered into the wood to make an impression. The students, parents and teachers all enjoyed experimenting with these materials, sometimes on separate blocks and sometimes using a combination of these techniques on one block of wood.
After a scrumptious morning tea, the students made their own choice as to which activity to do next. Harley, an Alternative Programs student, ran a music workshop which was very popular. Studio 1 was the venue to get your hands messy with finger painting and marbling using shaving cream and paint. Other students transformed natural materials into aliens in the Library but luckily, they weren't scary aliens! For those who wanted a quieter activity, they joined another artist called Cathy who ran a workshop on drawing mandalas.
The afternoon activities continued to be very popular with the students choosing between spray art with Lynn (Chair of the Governing Council), finding treasure in the Library, knitting and more mandala and Michelangelo-inspired art activities.
Everyone who attended the day gave very positive feedback on the workshops, the students' engagement and participation in activities, as well as the amazing artworks that were produced. Thank you to everyone who attended, including the students online, to make the day a huge success! We also extend our thanks to the artists who shared their expertise, materials and time to inspire the students' creativity as well as broadening their knowledge of various styles of art.
Teresa Montague, Primary Pedagogy Coordinator