news
Roonka Water Adventure Camp 2019
Posted on November 13, 2019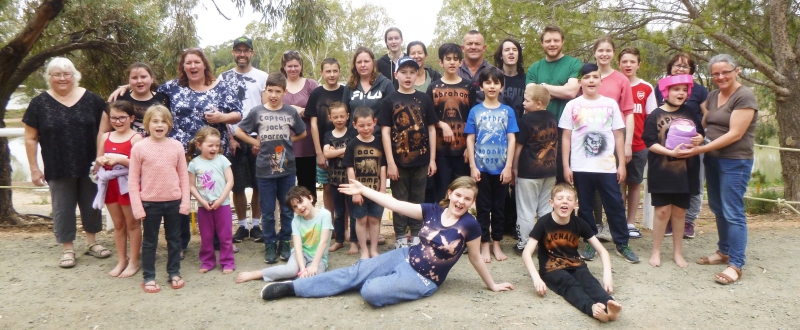 We had 15 families join us in bunkhouses, tents and caravans for 3 days of activities.
We warmed up on the water with a raft building challenge. They had to build their own floating rafts out of PVC pipes and drums. It was exciting to see that all teams managed to paddle out onto the billabong on their own raft! Later that night we enjoyed a camp fire. Students made delicious damper and toasted jumbo marshmallows.
The following day was spent from dawn to dusk on the billabong. Students loved kayaking on the water, zip-lining on the flying fox and sliding down the waterslide into the cold waters of the Murray. All had a great time, working, sharing, laughing and playing together. It was great to see the parents also having a go at everything!
Andrea (Geri and Maia's mum) taught us all about the local wildlife and their scats and tracks. We even had a go at making our own animal scats from play doh for our Pooseum. We went on a bushwalk, tracking signs of echidna activity in the area. We were lucky enough to find some, and recorded it on an App for the CSIRO. We learned that wombats do, in fact, poo cubes!
Susannah (Noah's mum) involved us in the SA Rocks group. Students decorated rocks in bright colours, and included their postcode. Later, we placed the rocks around the camp site, and pinned our location so that SA Rocks enthusiasts visiting the area would find our creations.
Susannah and Noah also brought along a special guest that stirred much excitement; Luna the baby possum. Luna certainly got enough cuddles to last a possum-lifetime.
Parents and teachers chipped in to help prepare meals. On the menu was yummy spaghetti bolognaise and a killer BBQ, with wraps and rolls for lunch. In their downtime, students enjoyed playing cricket, Jenga, card games and completing the camp activity booklets.
Lynn (Harley's mum) was our Quiz Master extraordinaire! She organised and ran a movie challenge questionnaire, where parents and students competed in groups, showing off their trivia knowledge. Each table was awarded a certificate and a delicious goodie-bag prize.
Lynn was awesome throughout the camp, helping students print and spray graphic T-Shirts that they designed as a memento of their time at camp. They looked striking, and students were so proud of their creations.
The camp ended on a high with a rowdy Chocolate Game, led and organised by Tracy (Stephanie, Christina and Anthony's mum). Students kept their eye on the dice to see if they rolled a 6 and could have a go at the chocolate with a knife and fork.
We celebrated the high points by awarding each student and parent with a personalised certificate.
Here's what our campers had to say about their time:
"I enjoyed the water sports, the amazing T-Shirt spay art, and seeing the children and parents engage in so much socialising."
"My favourite part was going down the waterslide and seeing who could splash the teachers the most when we went down, and playing old maid and making T-Shirts."
"Thank you so much for organising such a fantastic event for our children to interact and socialise in a safe and non-judgemental environment."
"My favourite part was kayaking and cricket."
"I enjoyed meeting other families and seeing the kids have a good time."
We would like to thank all the parents and acknowledge all their hard working in helping us create a happy and memorable time for all students. Thanks also go to staff who joined us on the Thursday. Our final, massive thanks go to teachers Vincent and Jacqui, without whom a lot of what happened would not have been possible.