news
Stage 1 students attend SA Schools Constitutional Convention
Posted on September 28, 2021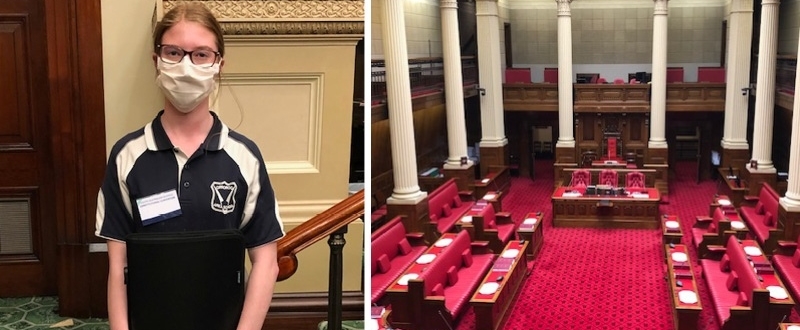 This year Open Access College were fortunate again to attend the South Australian Schools Constitutional Convention at Parliament House.
Five Stage 1 Legal Studies students and I participated in the convention on Friday 17 September 2021.
The topic for discussion was whether we need a new preamble for the Australian Constitution.
Parliament House provided a unique learning experience for all involved.
Students who took part are now invited to apply to attend the 2022 National Schools Constitutional Convention in Canberra, with travel, accommodation, and meals provided.
- Bernadette Flaherty
OAC student feedback included:
On Friday the 17th of September I was honoured to participate in the 2021 SA State Schools Constitutional Convention. This was an amazing opportunity that presented me with the opportunity to collaborate with other like-minded young people and advocate for change in our Australian Constitution. Personally, I found it eye-opening that the current preamble within, the constitution fails to acknowledge the diversity within our nation, not even mentioning our traditional owners of the lands. It was a great opportunity to hear other students' perspectives and hear them using their powerful voices speaking out for a new preamble that better identifies and relates to the Australia that we all call home today.
- Callum
The Constitutional Convention was a great learning experience; I got to meet Legal Studies students from all over the state and listen to talks from experienced politicians. Participating in discussions and the debate, I feel that I learnt much from hearing others' opinions, as well as how to best communicate with them. Overall, I would say that I gained a lot from the convention, and would consider it a great opportunity for students interested in law and politics.
- Chloe
The Constitutional Convention was interesting, I learnt about what should be in a preamble, other people's point of view on the current issue, learning from the guest speakers and overall having fun in the debate.
The main point of interest was learning about the preamble and doing the group task finding the key points and helping each other on the different preambles.
- Maggie