news
Student Achiever - Anna Wojnar
Posted on August 29, 2018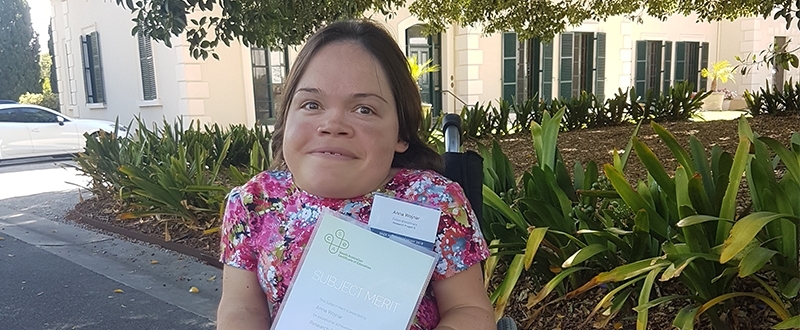 At Open Access College, we acknowledge and celebrate the dedication of our students.
Each year we publish the "Student Achievers" booklet, featuring the stories of some of our high-achieving students, who come from a variety of circumstances.
The current booklet contains the accounts of nine successful students in 2017, and can be downloaded at the bottom of this page.
Here is Anna's story...

My name is Anna
I am 26 years old. I live with my parents and brother in the Adelaide Hills of South Australia.
Because I have a severe disability called Morquio, to be able to get the most out of learning it was necessary to do my education through correspondence.

My experience at OAC
I started at Open Access College in 2012 and was slowly working towards my SACE.
OAC was great, as it was tailored to my needs and my teachers were great in being able to give me extra support outside of lesson time. This flexibility allowed me to also concentrate on my health needs, like; being able to see all my specialists, continue my exercises and any rest that my body required.
Because of all the health complications, I surprised myself that I was able to complete my SACE and also receive a merit! I couldn't have achieved this goal and beyond without the support and encouragement that the staff at OAC provided.
And now
As of this moment I am proud of my accomplishments, but after working so hard for many years I am taking a break from studying.
I am the human resources assistant at a busy bakery so I am far from bored.
Thank you to Open Access College. With my SACE behind me, it proves that even though I have a severe disability… with a bit of hard work, I can still achieve things in life.
To download the full booklet, please see the downloads section at the bottom of this page. You can also request a printed version be sent to you, please email administration@openaccess.edu.au