news
Suttontown Primary School celebrates 150th birthday!
Posted on September 05, 2019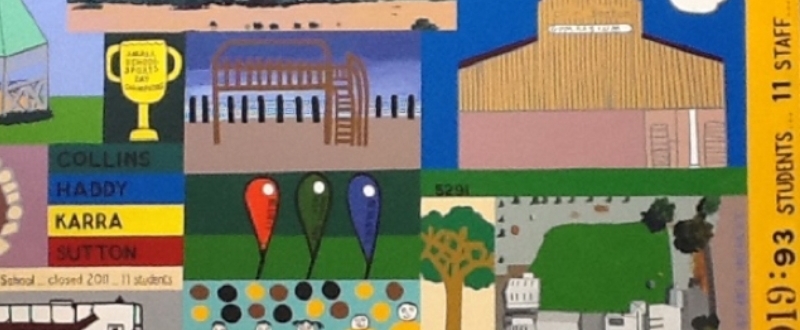 Suttontown Primary School is one of OACs Language Partnership Schools. It is located in a picturesque country setting, only five kilometres from the city centre of Mount Gambier. The school community has just celebrated its 150th anniversary!

To commemorate the occasion, they invited a mural artist from Adelaide, Mr. John Whitney, to create murals on the gym walls. Students, teachers, families and OAC Japanese teachers (lucky us!) all grabbed a paintbrush and had a go at painting under Mr. Whitney's guidance. The result is, as you can see in the photo above, just FANTASTIC!
As a part of the mural project, the school decided to change a small room leading to the library into a Japanese gallery. The school collected old picture frames from families and staff, painted them gold and made them into beautiful frames ready to be re-used. (Yes, we did learn the Japanese concept of Mottainai - waste not - as a part of the Japanese curriculum.)
Students created artworks based on their favourite iconic images of Japan. From these, Mr Whitney chose key motifs and images, almalgamating the students' work into a beautiful series of paintings for the gallery wall. He understandably had a very hard time selecting which artworks to use for inspiration. The result is, needless to say, SUBARASHII (wonderful)!!
By the way, you have seen John Whitney's wonderful work before. (Guess where :)) Do you recognise these images? Our campus is more beautiful because of art like this! Next time you take a stroll around the campus (Shinrinyoku or "Forest Bathing" is the Japanese concept of enhancing wellbeing through being in nature, and it is our current curriculum focus), please look for it and take a moment to stop and 'smell the roses'.
We OAC Japanese teachers feel very honoured and proud to be a part of Suttontown Primary School's special anniversary, and gratified to see the school community initiate and create a beautiful Japanese gallery. This kind of support from the community is incredibly valuable to any languages program, and initiatives like this really contribute to the visibility of Japanese in the school.
Omedetou gozaimasu (Congratulations) and Arigatou gozaimasu (Thank you) to Suttontown Primary School. We wish you the very best in the next 150 years!
Rayna and Kazuko