news
We proudly present the First Edition of the Access Gazette!
Posted on August 05, 2021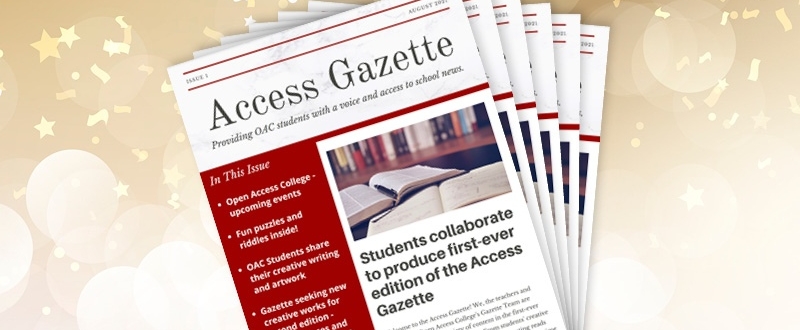 Read all about it! Students collaborate to produce first-ever edition of the Access Gazette!
Featuring:
Some wonderful creative writing pieces from Jemimah and Chloe that will completely absorb you;
Luke reviews the game Biomutant and Rahab reviews the novel Faro's Daughter...then Rahab interviews OAC teacher Forte;
Your chance to vote on some exceptional artwork by Miranda, and bake a cake with Levi;
Stretch your brain with puzzles and a riddle, and have giggle at some fun facts and silly jokes!
A fantastic effort by all involved, thank you to the Access Gazette team!!
(...and the team are looking for new work to feature in the next issue, so send in some of your creative pieces or anything else you would like to share!)
Download the Access Gazette here: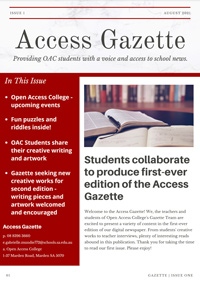 We want your feedback!
We value your opinion and would love you to take a few moments to give us your feedback on the Access Gazette. Please see the survey here: Access Gazette Feedback
---
If you find any of the content within this magazine uncomfortable please chat with your SWL or head over to Beyond Blue.