news
Year 6/7 Japanese Quiz Day
Posted on September 14, 2018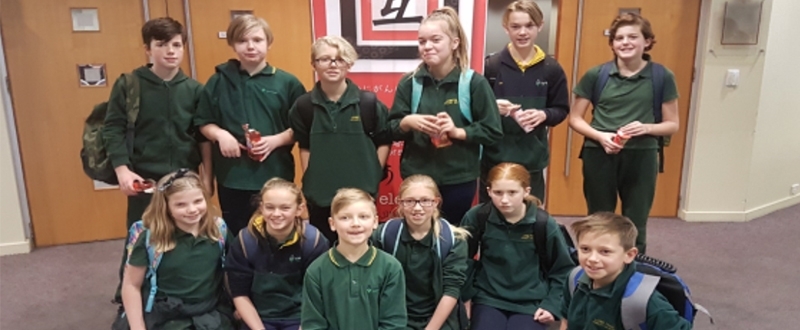 On Tuesday 26th June 2018 Open Access College participated in the Japanese Language Teachers' Association of SA's (JLTASA) Year 6/7 Japanese Quiz Day at the Education Development Centre. In the morning Quiz we were represented by 12 students from Lobethal Primary School, one of our Language Partnership Program (LPP) schools. Well done to Class 5 students Chloe, Gabe, Maxwel, Oscar, Roma and Sharni and Class 6 students Andrew, Emily, Emma-Lee, Jake, Jasmine and Lilli. In the afternoon quiz we were represented by Year 6 Marden students Brianna, Jade and Isaac and Year 7 Marden student Shakirah. In total 172 students from 16 schools across all three sectors participated in the quiz.
In small groups we formed a team with 4-5 other students from 2 different schools allowing us to meet new people and share our Japanese learning. Students worked very well in their teams and confidently shared their answers. The quiz categories included: numbers, geography, Hiragana, listening, Kanji, modern culture, traditional culture and vocabulary and grammar. Between rounds we played the traditional Japanese games Jan Ken Pon (rock, paper, scissors) and Kendama (traditional Japanese cup and ball game) as well as a game of True or False based on questions about the Japanese culture.
We wore happi coats (traditional Japanese festival coats) and hachimaki (headbands) to help us feel confident and get into the spirit of the day.
Overall, participating in the quiz gave us a great opportunity to meet other Year 6/7 students also learning Japanese, share our Japanese learning and most importantly have fun! There were some really cool Japanese prizes on offer with the famous Japanese snacks Pocky (chocolate-coated biscuit sticks) and Hello Panda being the most popular.
Thank you to Simon, Sonia and Belinda for all their behind-the-scenes work in organising Lobethal PS to participate. A big thank to you the amazing parents for transporting students to and from the quiz.
We encourage students to think about participating in next year's quiz and sharing their Japanese learning. I wonder what cool and strange facts we will learn next year?
Christina Challinger & Rayna Pryce, Japanese Teachers