news
Letter to Parents from Professor Nicola Spurrier: COVID-19 Vaccination Information
Posted on October 13, 2021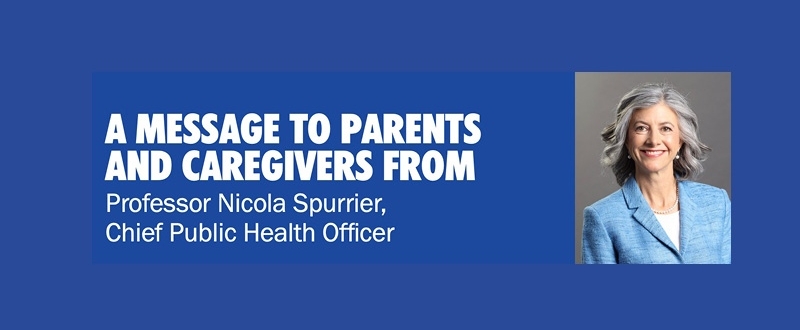 A message to parents and caregivers from Professor Nicola Spurrier, Chief Public Health Officer

Dear parents and caregivers,
The COVID-19 pandemic has been a worrying time for all of us.
The Delta COVID-19 variant is twice as infectious as the original COVID-19 strain and there are now more cases in children and young people.
Vaccination is the best way to protect you, your family, and your friends from getting sick, and reduce the risk of outbreaks and school closures.
I encourage everyone aged 12 years and over in your household to get vaccinated against COVID-19 as soon as possible.
COVID-19 vaccines in Australia are safe and many millions of Australians are already protected.
The Australian Technical Advisory Group on Immunisation (ATAGI) has recommended both the Pfizer and Moderna COVID-19 vaccines for people aged 12 years and over in Australia.
Consent from a parent/caregiver for COVID-19 vaccination is required for anyone under the age of 16.
To find a location to get vaccinated and book, visit covidvaccine.sa.gov.au
SA Health has lots of information to help answer questions, including videos, fact sheets and a range of other resources.
For more information, visit covidvaccine.sa.gov.au
Thank you for keeping South Australia COVID safe. Please join me in being a fully vaccinated family.
Yours sincerely
PROFESSOR NICOLA SPURRIER
Chief Public Health Officer
Health Regulation and Protection
---
Download this letter as a pdf at the bottom of this page.