Information For Medical Professionals
Students who are unable to attend their face-to-face school for medical reasons may be eligible to enrol with Open Access College.

Open Access College is a Government of South Australia R-12 school, experienced in delivering high quality online classes to students facing challenging medical conditions. These may include:
Depression
Anxiety disorder
Diagnosed autism
A physical disability
A medical condition requiring ongoing treatment
In some cases switching to online learning can be a positive step and help remove added stress.
Being in a comfortable home environment and not having to compete in a crowded classroom can help students feel more engaged and open to learning.
Patient/client suitability
Enrolment is considered on an individual basis for students with medical conditions, long term or short term, that prevent the student attending their enrolled school on a full-time basis.
For the best outcome to a student's learning and wellbeing, please consider the following.
Is there daily supervision?
It is a requirement that someone is available to supervise and support the student while at home.
Has the patient established community connections?
We place a great importance on our students having established connections to the community outside of school.
For this reason we are very reluctant to remove a student from their current school if it cuts off an essential social link.
However, if there are community connections in place (through a sporting club, church group, etc), Open Access College can be a good option to continue their studies.
Is there ongoing consulting?
Typically our students enrolled under the medical category are receiving ongoing medical support for their condition, and have a goal of eventually returning to their regular school environment if possible.
The enrolment process
Here is an overview of the enrolment process with your role (as a medical professional) highlighted.
You are welcome to discuss Open Access College with your patient/client if you feel it's an appropriate option to consider.
We can also provide business cards you can give to the family so they can open a discussion at their current school. To have business cards mailed to your office, please contact Robyn.Allen40@schools.sa.edu.au
From this point the enrolment process is as follows: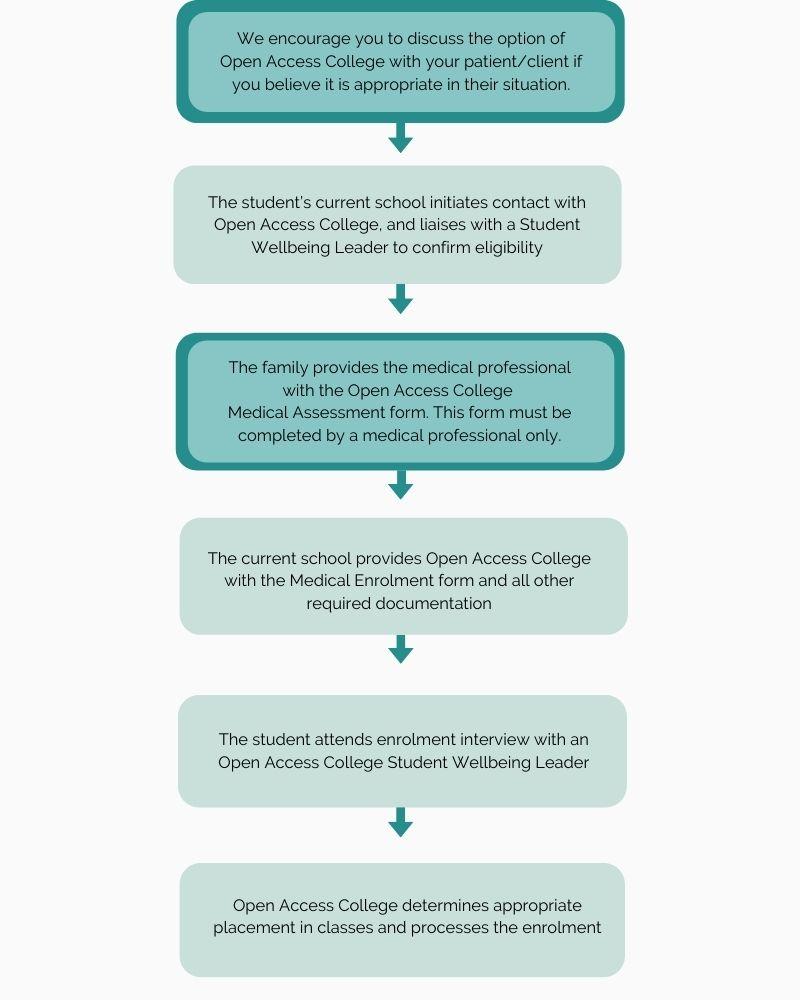 To discuss medical enrolments please contact student services
Phone: 08 8309 3500
Email: Student.Services805@schools.sa.edu.au
Read about our medical enrolment students and their success
Our medical enrolments program provides students with a supportive and encouraging learning environment that helps build confidence.
Hear from some of our previous medical enrolment students below:





Case studies from the teacher's perspective


---
Last updated: 21 November 2023